Step 3: Made a decision to turn our will and our lives over to the care of God as we understood Him (came to believe).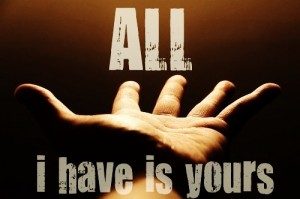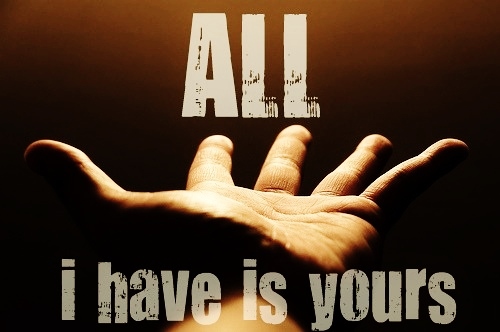 Once I believe, having experienced the powerful touch of God in some way, it only makes sense that in my third step that I would turn away from my addiction to selfishness by turning over my will and my life into His care to restore me to stability and into peace and joy. This requires a commitment to surrender everything into God's care according to my belief that He is trustworthy and able to change everything into what He wants my life to be, which is His best for me.
Therefore, I urge you, brothers and sisters, in view of God's mercy (came to believe), to offer your bodies as a living sacrifice, holy and pleasing to God—this is your true and proper worship. Do not conform to the pattern of this world, but be transformed by the renewing of your mind. Then you will be able to test and approve what God's will is—his good, pleasing and perfect will. Romans 12:1-2 (NIV)
COMMIT Take Action to Solve the Problem
Catch the Vision for a New Life Experience!
"Imagine you are on a high cliff and you lose your footing and begin to fall. Just beside you as you fall is a branch sticking out of the very edge of the cliff. It is your only hope and it is more than strong enough to support your weight. How can it save you? If your mind is filled with intellectual certainty that the branch can support you, but you don't actually reach out and grab it, you are lost. If your mind is instead filled with doubts and uncertainty that the branch can hold you, but you reach out and grab it anyway, you will be saved. Why? It is not the strength of your faith but the object of your faith that actually saves you. Strong faith in a weak branch is fatally inferior to weak faith in a strong branch… The faith that changes a life and connects to God is best conveyed by the word trust." —Timothy Keller*
While it is necessary to confront and challenge my ambivalence about really changing, I cannot resolve my ambivalence so long as I am selfish, disconnected spiritually, and trusting in myself. My selfish desires and motivations, fueled by entitlement, will continue to feed into my resistance to being unselfish; resistance which I must overcome to actively solve my problem. It is not a matter of eradicating doubt. I simply need to reach out, grab the branch because I am desperate in my falling and really have nothing to lose in clinging to it, hoping it's strong enough. If the branch gives way, I was falling out of control anyway. But what if grabbing the branch indeed saves my life and is the first step to restoring to me quality of life?
I am amazed what hope can do in the face of no or little faith. As I experience the evidence that the branch is sufficient, I discover that I now can trust it. I have faith in what I know to be true according to the evidence even if I don't always see clearly. I don't see gravity but I believe it to be true considering my experience with it. I don't see wind but the evidence is obvious as I see things blown by it and I hear the howling of resistance to it.
Living in God's best
For it is God who works in you both to will and to do for His good pleasure. Philippians 2:13 (NKJV)
God is all of the pleasure He needs because He is in fact God. So God working in me to think differently about what I want, and do better with godly desires does not bring greater happiness to God. God is not better off. He is already fulfilled in being God. It is who He is. So for me to will and to do according to what God is doing in me, changing me, is for my benefit enjoying His best in my new life experience. This is amazing truth.
In pursuit of a power greater than myself to empower me to a life of peace and stability, I need something—someone—bigger than me and bigger than my selfish obsessions and behavior. I am broken, and in order to know me, Jesus came to earth as a human being and was broken by my sin. He wore the thorns of my shame. In His sacrifice, He removed my sin and yours. From a heart of compassion, He suffered immeasurable pain, and He did it all for me and for you. Your sin is erased. The thorns of your shame have been removed from the record.
Jesus wants so much to know you. But today, you will not find Him on the cross. He is not there. You will not find him in the tomb. He's not there either. Jesus is alive and He will live in you if you'll have Him. He is merciful and gracious. Let Him in to assure you that you are washed clean from guilt and shame. Let Him shower you in His love. Soak yourself in it.
Central to "Recovery that Works!" are three pivotal steps that drive this entire thing. They are the first three of the Twelve Steps that make up what is referred to here as ABC Recovery: ADMIT my life is out of control and that I cannot on my own manage it; BELIEVE that God is in control, able and willing to help me; and COMMIT to God since He is in control able and willing to help me. If I believe that God is in control, it would seem to make sense to let go and turn over to God what I don't have control over anyway. It is reasonable to accept that I cannot on my own break free from the chains of my addiction to me. I cannot simply change from the inside on my own. It is my nature to be bound to a core belief of entitlement that drives my selfish ambition, feeding into jealousy and coveting what is not in my best interest. Only in a surrendered, committed relationship with Jesus Christ will these stifling chains of addiction linked together by selfish entitlement be broken. Only then will I experience resurrection from the dead in my life and finally set free.
"Without the guidance this program gave me, who knows where I would be today. Today, I am happily living out my life… and recommend this program to anyone who is addicted… This program laid a foundation that I neglected to build growing up. It gave me real direction and the resources to make clean decisions. My life is in no way perfect. Life still has its problems, but I now can rationally work my way through them." —Edward, Recovering FREEdom from MEdom Client
"The thief's purpose is to steal and kill and destroy. My purpose is to give them a rich and satisfying life." John 10:10
Let go and hold on
The evil in your addiction wants to sabotage your peace and steal your joy by deceiving you into believing its lies about you. The lie is that you need to come clean before God, even though His Word says that because of what Jesus did as the sacrifice for your sin, you can approach God with bold confidence as you are in the shape you are in. The shame of your past is on fire. Who you are in your addiction is on fire. Your past failures are on fire. Your weaknesses are on fire. Your selfish pride is on fire. The jealousy and resentment you can't seem to shake is on fire. What you covet is on fire. The hypocrisy of trying so hard to do right and good in your own strength… that's right… it's on fire.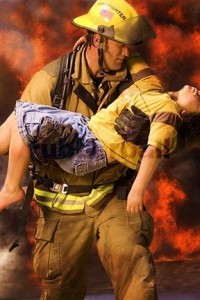 The lie is that while the fireman fully equipped has arrived to deliver you from being engulfed in the flames, you've been duped into believing that on your own you will to put the fires out. Honestly, if you were trapped in a burning building and the fireman stormed in to rescue you, would you for one second attempt to send him away so that you could put the house fire out with your bucket of water? Or, would you admit sensibly that you are powerless to save yourself; believing that the fireman is your only real chance to survive, would you by necessity commit to following the fireman, doing whatever he says to save your life?
I cling to you; your strong right hand holds me securely. Psalm 63:8 (NLT)
God is pounding at the door of your heart wanting to engulf you into the goodness of His best, so you can fully experience His best for you. He will come in, put the fire out, and rebuild your life into something new from His resources. Do you want His best, or are you settling for yours? It is time to act to begin solving your problem. Begin by reaching out, clinging to the One more than strong enough and willing enough to rescue you from certain death, restore your sight and help you to find your way, and empower you to face the obstacles sure to challenge you along your journey.
FREEdom from MEdom Project is an interactive online support resource to guide you along a pathway to receiving God's best for your life—experiencing freedom from the symptoms of dissatisfaction and addiction through transformative Christ-centered recovery. You will identify in reading the articles that there is a clear cognitive-behavioral approach to discovering Biblical truth concerning transformative recovery. Through interactive participation in FREEdom from MEdom Activities, you get to participate by way of recovery lessons and application challenges to assist your recovery.
You will learn how to gain access to the power of God in your life. You will better understand never to minimize or under estimate the power of prayer.ou will learn that praying daily with consistency is essential to your investment and participation in effective and productive recovery. This is not intended to be merely a religious exercise. We are hopeful that your perceptions of God will be restored to something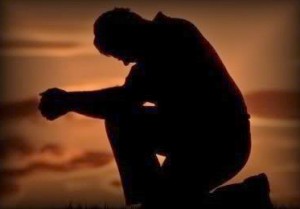 much more optimistic and enthusiastic as you come to believe in who He really is and what He's all about. You can realize the experience of faith in your life in an active relationship with Jesus Christ who loves you and desires to participate in your life. You can in fact possess the tools to live out recovery and enjoy freedom from addiction rooted in a core belief of entitlement—to surrender your self-centered will in a beautiful relationship with Christ who loves you.
"I have gone through the Freedom from 'Me'dom Project then concluded that it is divine; my heart is deeply touched. I have been touched by your vision for delivering addicted people. May this vision that is still in the womb be quickened to maturity. May God expand your vision mightily all over the world. I'm moved to pray for this ministry because it is a unique one. I have shared this with my church members and they said let this movement begin with Kenya, Africa. I know that this wave shall cause a great revival in our land." —Pastor Leonard Walubengo, Nairobi, Kenya
A skeleton walked into a bar and said to the bartender, "I'll have a beer and a mop."
Addictive self-centered behavior breaks individuals and families down to the bone and leaves a mess in its wake. The feature Addiction ED is an informative resource to help you to be better educated about addictive thinking and behavior. Clinical experts describe the symptoms as well as the physiological and psychological affects associated with various addictions. It includes some narrative debate on addiction as a disease versus addiction as a matter of choice and personal responsibility from both clinical and Biblical perspectives.
DISCOVER Embrace the Solution… a New Life Experience
Unveil Revelation of Redemption and Renewal

Where there is no revelation, people cast off restraint; but blessed is the one who heeds wisdom's instruction. Proverbs 29:18 (NIV)
Whenever someone turns to the Lord, the veil is taken away… For wherever the Spirit of the Lord is, there is freedom. 2 Corinthians 3:16-17 (NLT)
Don't copy the behavior and customs of this world, but let God transform you into a new person by changing the way you think. Then you will learn to know God's will for you, which is good and pleasing and perfect. Romans 12:2
The promise is that should I act to change what I do from the outside in that God will do a work of changing me from the inside out by changing my mind into something new. It's an awesome charge but if you are reading this and you're not sure how to reach out and identify with, or relate to God—after all, He is a big God—simply try talking to God, out loud if you can, and let Him know what you are thinking and feeling. Tell Him what your issues are with Him. Tell Him why faith is difficult for you. Investigate the Scriptures that are throughout FREEdom from MEdom Project, digging deeper into the context of the passage. Pray for revelation of truth; not just "truth" as you might want to receive it through a preconceived lens, but the real truth of who God is. Then trust Him to reveal His truth to you. Remember that truth is truth whether you are sure about it or not; whether you believe it or not. Discover the deeper truths of what God really wants you to know.
Now faith is the substance of things hoped for, the evidence of things not seen. Hebrews 11:1 (NKJV)
We hope and pray that you will find the resources and opportunities offered here both attractive and compelling as you discover and examine powerful truth that makes perfect sense. Please take your time getting to know your way around this website. Experience by faith the transforming work of God in your life to move from that place of dissatisfaction into the reality of a satisfied mind.
"For I know the plans I have for you," declares the Lord, "Plans to prosper you and not to harm you, plans to give you hope and a future. Then you will call on me and come and pray to me, and I will listen to you. You will seek me and find me when you seek me with all your heart." Jeremiah 29:11-13 (NIV)
Then He (Jesus) said to the crowd, "If any of you wants to be my follower, you must turn from your selfish ways, take up your cross daily, and follow me." Luke 9:23 (NLT)
*Timothy Keller quotes are all from his book, The Reason for God: Belief in an Age of Skepticism