Such a marvelous

mystery…

You are my everything, and I will adore You!
by Steven Gledhill for FREEdom from MEdom Project
"Is it not written in your law, 'I said, "You are gods"'? 
Wait a minute. What did he say?
That was Jesus quoting something from the Scriptures he had access to more than two thousand years ago. What was he talking about? Was Jesus being sarcastic? Was he simply messing with his critics? Was it a throw-away line that had little or no real substance or significance while confronted about some declaration of divinity? What do you think? Who was Jesus talking about? What does that even mean?
Does it have anything to do with you or me?
No? Are you sure about that?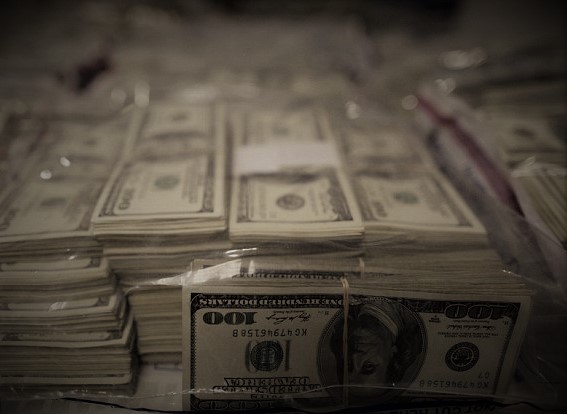 The psalmist in this case, Asaph, is venting a bit. He lived at a time when the poor and destitute were suffering in poverty, while very clever people were invested in their own gluttony at the expense of the impoverished. It was not unlike what occurs in most civilized cultures today. Asaph questioned God's sense of justice seeing the wealthy get rich on the backs of the poor.
Today, drug dealers and white collar criminals get filthy rich, while their customers struggle with the pain and misery of addiction; craving what they do not, and likely will never, have or experience.
The following are the thoughts of Asaph from the Psalms:
1 God presides over heaven's court;
    he pronounces judgment on the heavenly beings:
2 "How long will you hand down unjust decisions
    by favoring the wicked? 
3 "Give justice to the poor and the orphan;
    uphold the rights of the oppressed and the destitute.
4 Rescue the poor and helpless;
    deliver them from the grasp of evil people.
5 But these oppressors know nothing;
    they are so ignorant!
They wander about in darkness,
    while the whole world is shaken to the core.
6 I say, 'You are gods;
    you are all children of the Most High.
7 But you will die like mere mortals
    and fall like every other ruler.'"
8 Rise up, O God, and judge the earth,
    for all the nations belong to you. Psalm 82:6 (NLT)

Okay. So there is the context of what Jesus quoted from Scripture while being harshly criticized for his claim that he himself is the son of God. Jesus referenced something penned by Asaph.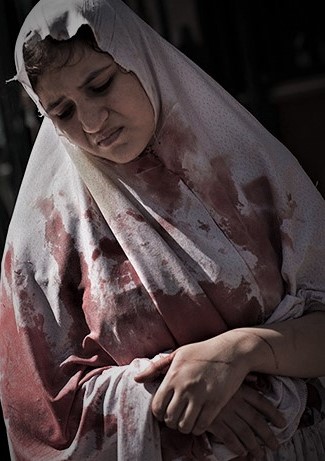 Like David, Asaph was a musician and a "seer"; a prophet. Asaph was speaking for God. Asaph was angry that people were being oppressed by folks basking in the glory of their fortune at the expense of others' misfortune. Asaph was crying out for justice for the oppressed, asking God, "How long will you hand down unjust favor for the wicked?"
Wow! That's quite a lot to say. It took nerve, wouldn't you say, to challenge your maker like that? What was Asaph thinking? Was he speaking on our behalf?
Here is what I believe the Lord said through this prophet. I think he was saying that every single one of us was created in the image of God, with the intention of function and behavior in that image, with those same love-oriented characteristics in the glory of the kind of life God envisioned for us.
However, like Adam eating of the forbidden fruit and falling from glory, the sin of exalting oneself at the expense of God's glorious intentions for all of creation has led to the most serious and severe consequence: mortality unto death.
But for those reconciled back into favor with God through relationship with his son, Jesus…
"He will make the feeblest and filthiest of us into a god or goddess, dazzling, radiant, immortal creature, pulsating all through with such energy and joy and wisdom and love as we cannot now imagine, a bright stainless mirror which reflects back to God perfectly (though, of course, on a smaller scale) His own boundless power and delight and goodness." —C.S. Lewis
All were made to be children one creator. All of God's children will be held accountable by him who is sovereign, impartial, and fair. There will be no excuse. Those who basked in the glory of the flesh will find it pales miserably compared to the coming glory in relationship with the Father of all life.
The oppressor will be humbled and brought to justice. The oppressed will be set free and exalted. In the righteousness of almighty God, we who live in the favor of God will be exalted into the glory of our origin makeup prior to the fall.
Jesus paid the ransom for sin. Anyone embracing relationship with the sacrificed son of God will be made to reign over the oppressive rulers of the earth still clinging to their earthly kingdoms, steeped in their sin and lust for the flesh.
9 And they sang a new song with these words:
"You are worthy to take the scroll
    and break its seals and open it.
For you were slaughtered, and your blood has ransomed people for God
    from every tribe and language and people and nation.
10 And you have caused them to become
    a Kingdom of priests for our God.
    And they will reign on the earth."
11 Then I looked again, and I heard the voices of thousands and millions of angels around the throne and of the living beings and the elders. 12 And they sang in a mighty chorus:
"Worthy is the Lamb who was slaughtered—
    to receive power and riches
and wisdom and strength
    and honor and glory and blessing." Revelation 5:9-12 (NLT)
God has big plans for his children who have embraced redemption and reconciliation into his favor.
For what purpose has the Savior of the world come? What is the BIGGER big picture?
Even Jesus tried telling his creation that we are created in God's image and partakers of all that is divine and best… that we have within us the jackpot. We carry within us the winning ticket to it all and yet think and feel and act as if we have no idea.
His divine power has given to us all things that pertain to life and godliness, through the knowledge of Him who called us by glory and virtue, by which have been given to us exceedingly great and precious promises, that through these you may be partakers of the divine nature. 2 Peter 1:3-4 (NKJV)
What does it mean to be satisfied… to never again want or need… EVER? What really did Jesus mean when he spoke of the water that he offers as satisfying… such that we will never thirst again?
What were we originally created to be… our calling as the created? What are we destined to experience once wholly restored into what we were meant for?
"It is a serious thing to live in a society of possible gods and goddesses… that the dullest most uninteresting person you talk to may one day be a creature which, if you saw it now, you would be strongly tempted to worship him…" —C.S. Lewis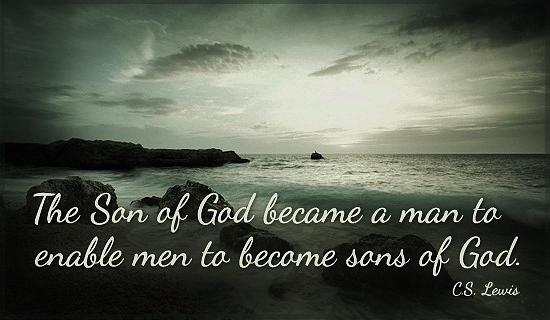 Are you ready for this?
There are truths in the Bible that due to lack of understanding and discernment are dismissed out of hand without serious and critical thought. There are mysteries that remain hidden because of a lack of courage to lift the curtain to really see them for what they are. Sometimes there are things written, even by sensible people, that on the surface can appear so outrageous that they are not given sufficient consideration. I encourage you to dig deeper to discover hidden treasure. It may be time to unveil what is coming for you, whether or not you are comfortable with it.
For example, what famous theologian said about disciples of Jesus Christ…
"Is it not written in your law, 'I said, "You are gods"'? John 10:34 (NKJV)
What does that mean? Who would say something so outrageous?
The life we are living is but a single bump on a road that never ends. We as we are today are but a blur in the dark that when the light shines on what and who are in Christ will be a vision of glorious beauty and wonder. We have no idea while living in this flesh how our transformation in relationship with God has restored us to what we were always meant—created—to be.
"If a transtemporal, transfinite good is our real destiny, then any other good on which our desire fixes must be in some degree fallacious, must bear at best only a symbolical relation to what will truly satisfy." —C.S. Lewis
The prefix 'trans-' means "across," "beyond," "through," and "changing thoroughly." Since the words 'temporal' and 'finite' mean time and measure, C.S. Lewis is suggesting that our destiny is beyond the now and what we understand as sensible; that what we know now will be utterly changed—transformed (meaning a new thoroughly changed form, beyond recognition from what it was). He is suggesting that what we desire in this world is not what we really want since we cannot know in our temporal, finite understanding what we really want at the very core of what we were created to want. C.S. Lewis is writing that what we believe satisfies us is at best only a "symbolical relation" to what truly satisfies. What truly satisfies is to be one with God, knowing Him in the deepest places of who and what He is from the deepest places of who and what we are; the ultimate intimate love experience.
C.S. Lewis is suggesting that our most deeply realized and felt experiences in this condition of our temporal, finite fleshly existence is anything but memorable compared to the fully realized experience of our humanity being restored when the time of perfection comes in glory as new creations in Christ. As you continue to read here what Scripture has to say about that, and allow yourself to really meditate on the weight of such astounding truth, your faith may be challenged enough by the mystery that you might have some difficulty trusting in what you say you believe about the Word of God.
Understanding
The creation of Adam was meant to be what the "creation" of Jesus (God made flesh) as the "second… or last… Adam" ultimately was. Suggesting that Jesus was "created" to be flesh is the kind of language that gets me in trouble. Jesus was the begotten son of God. All it means is that Jesus was God made to be flesh. Jesus is God and was always God from the beginning… let's not lose our sensibility about that moving forward. Why must it be so arduous to believe that the begotten son of God was divinely made—"created"—flesh when he was a seed in Mary's womb? Paul wrote that Jesus humbly laid down divine privilege having "stepped down" as God to experience humanity in the likeness of sinful flesh. (Romans 8:3) The resurrection of Jesus is humanity made complete, fully restored, affording you and me wholeness having been baptized with him in his death and raised into new life; humanity made complete, fully restored.
9 God has now revealed to us his mysterious plan regarding Christ, a plan to fulfill his own good pleasure. 10 And this is the plan: At the right time he will bring everything together under the authority of Christ—everything in heaven and on earth. 11 Furthermore, because we are united with Christ, we have received an inheritance from God, for he chose us in advance, and he makes everything work out according to his plan.
19 I also pray that you will understand the incredible greatness of God's power for us who believe him. This is the same mighty power 20 that raised Christ from the dead and seated him in the place of honor at God's right hand in the heavenly realms. 21 Now he is far above any ruler or authority or power or leader or anything else—not only in this world but also in the world to come. 22 God has put all things under the authority of Christ and has made him head over all things for the benefit of the church. 23 And the church is his body; it is made full and complete by Christ, who fills all things everywhere with himself. Ephesians 1:9-11, 19-23 (NLT)
Jesus has been raised to be far above and beyond any earthly authority into the realm of the heavenlies. As His disciples, we have been raised with Him. If Christians (including Christians like me) really understood who they are in Christ, there would be no mistaking believers living in the confidence of what they believe from unbelievers who are lost no matter what else they believe.
Chosen
What does it actually mean that God has blessed us with every blessing in the heavenly realm, according to the full inheritance of who we are united with Christ Jesus? What does one made whole and complete look like in the fullness of every spiritual blessing in Christ, who Himself is far above everything that ever is, ever was, and ever will be?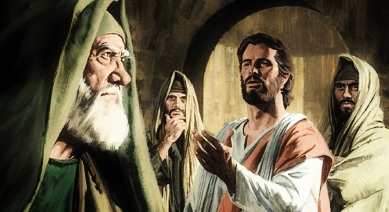 32 Jesus said, "At my Father's direction I have done many good works. For which one are you going to stone me?"
33 They replied, "We're stoning you not for any good work, but for blasphemy! You, a mere man, claim to be God."
34 Jesus replied, "It is written in your own Scriptures that God said to certain leaders of the people, 'I say, you are gods!' 35 And you know that the Scriptures cannot be altered. So if those people who received God's message were called 'gods,' 36 why do you call it blasphemy when I say, 'I am the Son of God'? After all, the Father set me apart and sent me into the world. 37 Don't believe me unless I carry out my Father's work. 38 But if I do his work, believe in the evidence of the miraculous works I have done, even if you don't believe me. Then you will know and understand that the Father is in me, and I am in the Father." John 10:32-38 (NLT)
Jesus was saying that it is God saying to the oppressors in the time of Asaph the Psalmist that the oppressed and their oppressors were originally created equal, to have relationship with God in the heavenly realms (the heavenlies) as His children, united with Him to be "gods" with Him. (Please bear with me, as I will explain more thoroughly my take on this.)
1 God presides over heaven's court; he pronounces judgment on the heavenly beings: 2 "How long will you hand down unjust decisions by favoring the wicked? 3 "Give justice to the poor and the orphan; uphold the rights of the oppressed and the destitute. 4 Rescue the poor and helpless; deliver them from the grasp of evil people. 5 But these oppressors know nothing; they are so ignorant! They wander about in darkness, while the whole world is shaken to the core. 6 I say, 'You are gods; you are all children of the Most High. 7 But you will die like mere mortals and fall like every other ruler.'" 8 Rise up, O God, and judge the earth, for all the nations belong to you. Psalm 82 (NLT) 
I gave you the entire psalm so as to not miss out on the context of what Jesus was saying in John chapter 10.
Some will argue that I have grossly, and perhaps irresponsibly, exaggerated the context of Psalm 82:6 and John 10:34; the prophecy that Jesus referenced, not to defend his claims but rather to enhance the understanding of them. My study included a number of commentaries from credible scholars. Even though the original Old Testament translation for 'gods' is Elohim, meaning 'the one true God' the popular consensus amongst theologians is that the word represented earthly authority and power given by God to types of governing leaders, and at most, angelic power given by God to spiritual leaders (i.e., Apostle Peter). Commentaries describe the plurality in the phrasing around the word Elohim to mean that the word is used to identify angels and earthly authorities. It goes on to say that these earthly rulers are mortal and will fall like any other ruler and die.
One such commentary concludes:
Jesus defended His claim to be the Son of God on biblical and semantic grounds—there is a sense in which influential men can be thought of as gods; therefore, the Messiah can rightly apply the term to Himself. Human beings are not "gods" or "little gods." We are not God. God is God, and we who know Christ are His children. —Gary Burge
I could accept that. But I'm not sure that is the case here; especially under the circumstances. Did Jesus make reference to this thing just to be sarcastic, as if to say, "You believe that you are gods the way you lord over these people, why would you be so shocked when I tell you that I am in likeness, God… like my father?" Was Jesus saying to the governing leaders, "Can't you see that I am like you?" or was he saying, "I am like God"? Is it just a play on words that Jesus uses to make a point about who he is compared to who they are, or is there something far deeper at stake here for all of us?
We agree that we were created in God's image, and that there is a day coming in glory when we shall be like Him. The deeper our experience of transformation in glory, the more we take on the image of Jesus Christ glorified. The Bible says so.
But we all, with unveiled face, beholding as in a mirror the glory of the Lord, are being transformed into the same image from glory to glory, just as by the Spirit of the Lord. 2 Corinthians 3:18 (NKJV)
We as God's children wouldn't dare allow God to say that there is a day coming when we will have god-like qualities in the paradise He has prepared for us, but we seem not to take issue with receiving crowns in heaven. Who wears a crown? Kings wear crowns. Rulers wear crowns. Adam and Eve were crowned by God to rule over the paradise created for them. Then they fell from their position, became mortal, and died. But what about when the age of perfection comes? What about that age when there is no tempter? What about when there is no death for the true children of the Most High?
The problem we have as unworthy entitled humans is accepting what God intends for us as humans, whether it be in this age or in the age to come. Remember what He intended for Adam and Eve. He gave them charge over the garden; paradise. The attribute for that kind of God-given divine authority is, dare I say, lordship. The problem for Adam and Eve, however, was that Satan was in the neighborhood and convinced them that their position as gods over God's creation was inferior to being God (which, of course, it was). He suggested to them that God didn't say they could eat of every tree, even though God said they could eat of every tree but one.
My pastor, Fran Leeman, is constantly pressing the point that the humanity of man is not inherently flawed, weak, and evil. He insists that we were created in our humanity to be free to lavish in the wondrous life and as the beautiful creation as originally intended by a wildly imaginative Creator who saw for us experience beyond our wildest imagination. Humanity in its purely created form was without flaw, and the purpose of His Son coming to us was far more than a rescue mission. It was a mission to restore us into what we were originally created for.
So when the woman saw that the tree was good for food, that it was pleasant to the eyes, and a tree desirable to make one wise, she took of its fruit and ate. She also gave to her husband with her, and he ate. Then the eyes of both of them were opened, and they knew that they were naked; and they sewed fig leaves together and made themselves coverings. Genesis 3:7 (NKJV) 
When Adam and Eve fell they saw themselves and each other differently, and in their nakedness were ashamed with the need to cover up. I have wondered recently, what did Adam and Eve look like before the fall? What did they actually look like in their appearance?
So God created man in His own image; in the image of God He created him; male and female He created them. Genesis 1:27 (NKJV)
What does it mean that we were created in the image of God? What if it means that the humanity of male and females was originally intended to have the appearance of glory?
His countenance was like the sun shining in its strength. And when I saw Him, I fell at His feet as dead. Revelation 1:16-17 (NKJV)
What if Adam and Eve looked more in appearance like Jesus in Revelation chapter 1, than Jesus who arrived in the likeness of sinful fallen flesh?
"… God did by sending His own Son in the likeness of sinful flesh, on account of sin… " Romans 8:3 (NKJV)
Scripture tells us that Jesus was the last Adam. Why? What does that mean?
Let's begin with what the Bible tells us about the Last Adam:
40 There are also celestial bodies and terrestrial bodies; but the glory of the celestial is one, and the glory of the terrestrial is another. 41 There is one glory of the sun, another glory of the moon, and another glory of the stars; for one star differs from another star in glory.
42 So also is the resurrection of the dead. The body is sown in corruption, it is raised in incorruption. 43 It is sown in dishonor, it is raised in glory. It is sown in weakness, it is raised in power. 44 It is sown a natural body, it is raised a spiritual body. There is a natural body, and there is a spiritual body. 45 And so it is written, "The first man Adam became a living being."The last Adam became a life-giving spirit.
46 However, the spiritual is not first, but the natural, and afterward the spiritual.47 The first man was of the earth, made of dust; the second Man is the Lord from heaven. 48 As was the man of dust, so also are those who are made of dust; and as is the heavenly Man, so also are those who are heavenly. 49 And as we have borne the image of the man of dust, we shall also bear the image of the heavenly Man. 1 Corinthians 15:40-49 (NKJV)
The Apostle Paul, here, draws a distinction between earthly terrestrial man—Adam—and heavenly celestial man—Jesus, but Jesus was in appearance an earthly man, unless the distinction between earthly man (flesh) and heavenly man (spiritual) has less to do with outward appearance and more to do with the inner human spirit. So, as the humanity of man is fully restored into God's original creation, it likely has far less to do with how we appear on the outside, and everything to do with what we become from the inside.
But the Lord said to Samuel, "Do not look at his appearance or at his physical stature, because I have refused him. For the Lord does not see as man sees; for man looks at the outward appearance, but the Lord looks at the heart." 1 Samuel 16:7 (NKJV)
Jesus, while God made flesh, having laid down his divine privilege (Philippians 2:5-8), was the heavenly man, while in the appearance of "sinful flesh". Jesus was communicating to his critics that he is the heavenly man in the image of God, but also that the prophets wrote of God saying, "You are gods; you are all children of the Most High." I interpret this as Jesus saying that, in the flesh, he was the personification of that prophecy; the manifest character of what God intended humanity to be when He created us in the first place.
Jesus represented, characteristically, humanity fully restored, although in a physical "fallen" body that could die. In a heavenly body, as children of the Most High, we are gods in the eyes (mind) of God. In my temporal finite thinking, I consider that to suggest that I am like a kind of "god" in the eyes of God. But it sounds like to God, having been fully raised up into glory, we are gods in relation to Him; with Him who is God.
I am writing what Scripture appears to indicate what we have always been meant to be from the origins of our creation, since we are identified as children of the Most High, and as the new creation from our transformation (having chosen relationship with Jesus), having put off the old man and put on the righteousness of Christ Jesus.
I am appreciative that you have come to see this "real point of the gospel"—restoration—because I remain convinced that most of the church of our day has a vague idea of it at best. —Fran Leeman
When as Gods sons and daughters, our humanity fully restored, we reign with Him as "gods and goddesses" on the earth and enjoy eternity in worship unto God, there will be no tempter. Satan will be bound up and ultimately cast into the lake of fire. We will be without the sense of self-centered entitlement when we are glorified with Him in the time of perfection.
Remade
Since you have heard about Jesus and have learned the truth that comes from him, throw off your old sinful nature and your former way of life, which is corrupted by lust and deception. Instead, let the Spirit renew your thoughts and attitudes. Put on your new nature, created to be like God—truly righteous and holy. Ephesians 4:21-24 (NLT)
Therefore, from now on, we regard no one according to the flesh. Even though we have known Christ according to the flesh, yet now we know Him thus no longer. Therefore, if anyone is in Christ, he is a new creation; old things have passed away; behold, all things have become new. 2 Corinthians 5:16-17 (NKJV)
The challenge from Apostle Paul is to consider oneself from a spiritual heavenly perspective. He said that he doesn't relate to Christ from an earthly perspective but as the new heavenly creation walking and talking with his Lord. THIS IS AN AMAZINGLY PHENOMENAL THING! It was his reality… a reality that changed everything for him; even in the midst of incredible struggle.
So in times of torment, having endured stonings and imprisonment, when his flesh cried out, "Please Jesus, make it stop!" Christ responded, "My grace is all you need. My power works best in weakness… " (2 Corinthians 12:9, NLT) I don't know what Paul's thorn was but it can certainly be said that in times of suffering, when he needed it the most, that God's grace was necessary and sufficient, and that it was a strength and comfort to Paul to dwell spiritually in the glory of his relationship with Christ.
Concerning this thing I pleaded with the Lord three times that it might depart from me. And He said to me,"My grace is sufficient for you, for My strength is made perfect in weakness."Therefore most gladly I will rather boast in my infirmities, that the power of Christ may rest upon me. Therefore I take pleasure in infirmities, in reproaches, in needs, in persecutions, in distresses, for Christ's sake. For when I am weak, then I am strong. 2 Corinthians 12:8-10 (NKJV)
When we consider God's grace as being far more than forgiveness of sin, as being made perfect in weakness, what does that really mean in the context of the pain and struggle of this life?
Since you have been raised to new life with Christ, set your sights on the realities of heaven, where Christ sits in the place of honor at God's right hand. Think about the things of heaven, not the things of earth. For you died to this life, and your real life is hidden with Christ in God. And when Christ, who is your life, is revealed to the whole world, you will share in all his glory. Colossians 3:1-4 (NLT)
"At present we are on the outside of the world, the wrong side of the door. We discern the freshness and purity of morning, but they do not make us fresh and pure. We cannot mingle with the splendors we see. But all the leaves of the New Testament are rustling with the rumor that it will not always be so. Some day, God willing, we shall get in." —C.S. Lewis


C.S. Lewis writes that even now we are immortals whose glory is hidden. He suggests that the only thing separating us from that which we long for in glory is that we are on this side of it; that we will some day walk in through the door into the age of glory into that relationship with perfection realized; into that side of eternity.
Now our knowledge is partial and incomplete, and even the gift of prophecy reveals only part of the whole picture! But when the time of perfection comes, these partial things will become useless… Now we see things imperfectly, like puzzling reflections in a mirror, but then we will see everything with perfect clarity. All that I know now is partial and incomplete, but then I will know everything completely, just as God now knows me completely. Three things will last forever—faith, hope, and love—and the greatest of these is love. 1 Corinthians 13:9-13 (NIV)
God's intention is that, since we having chosen the best of who and what He is with the freedom to choose either way, we then bask in the experience of the complete fullness of such living. The time—age—of perfection is life with the lifegiver and all that it entails. What is so awesome about God is that in His sovereign superiority, He doesn't need to be (feel) superior. That is the humility of almighty, sovereign God. We are not comfortable with, and tend to reject, being referred to as gods because it implies some kind of sovereign superiority, which can only belong to one; and of course, that one is God. God makes us to be gods in glory because it is our destiny in the fullness of Christ.
It is nothing like Adam and Eve in the garden wanting more than what they had since what they had was everything, and yet it wasn't enough following the manipulations of the tempter. Adam and Eve needed the advise in Romans 12:3 about self-examination, having though more highly of themselves than they ought. However, in glory there is no tempter. The tempter is his own god suffering through eternal damnation, by choice free from God. In glory, we, already having chosen, are free in God, reveling in the perfection of such worship and fellowship.
So C.S. Lewis suggested that if the tempter could see the most ordinary persons in the age of perfection in all of their glory, he would see gods and goddesses and would bow down and worship them. And they would not be proud or arrogant, but that in victory their hearts would go out even to Satan and his minions with empathy, hoping to—motivated, even compelled by love—encourage them in some way. But there would be too great a chasm, and thus, no intervention is possible.
The Apostle Paul declares this about who we are right now in relationship with Jesus, and what it means for how we look at life and live it, when he writes,
But our citizenship is in heaven. And we eagerly await a Savior from there, the Lord Jesus Christ, who, by the power that enables him to bring everything under his control, will transform our lowly bodies so that they will be like his glorious body. Philippians 3:20-21 (NIV)
The emphasis again and again throughout the New Testament is the experience of new life in Christ; what it means for who and what we are today, and what it means for who and what we are moving forward in the age of resurrection into the age of glory when the time of perfection comes.
What do you think Jesus was talking about when he spoke of experiencing life to the full… abundant life… a satisfied life? Honestly, reality says to me that I may not necessarily realize contentment concerning my circumstances prior to the age of glory in the time of perfection in the experience of the heavenly realm, but can I experience contentment from the hope that comes with trusting what I believe? What do I believe about the satisfied life that is to come in the heavenly realm?
I am the gate; whoever enters through me will be saved. They will come in and go out, and find pasture. The thief comes only to steal and kill and destroy; I have come that they may have life, and have it to the full. John 10:9-10 (NIV)
"The glory of God is man fully alive." —Saint Irenaeus
The time of perfection comes as we enter the gate into the heavenlies with Jesus for all of eternity where the glory of God is reflected in each of us fully alive. Have you ever wondered what you really want when it comes to eternal life? Ever wonder what it is about heaven that really does it for you? Is it enough to not perish and live forever?
"To live life fully—that is to say, to live as God meant for us to live—demands a full recovery of our heart. Eternal life… we tend to think of it in terms of life that never comes to an end. And the existence it seems to imply—a sort of religious experience in the sky—leaves us wondering if we would want it to go on forever. But Jesus is quite clear that when he speaks of eternal life, what he means is life that is absolutely wonderful and can never be diminished or stolen from you… In other words, eternal life is not primarily duration but quality of life—"life to the limit." —John Eldredge, The Journey of Desire
John Eldredge was quoting Dallas Willard from his work, The Divine Conspiracy, who wrote:
"Jesus offers himself as the doorway into the life that is truly life. Confidence in him leads us today, as in other times, to become his apprentices in eternal living. "Those who come through me will be safe," he said. "They will come in and out and find all they need. I have come into their world that they may have life, and life to the limit."
That is a powerful declaration that "confidence in Him leads us today, as in other times, to become apprentices in eternal living." Apostle Paul wrote that at this time we are citizens of heaven, and Dallas Willard wrote that we are apprentices of eternal living today in the confidence of who and what we are in the transformative life we are meant to experience in the here and now. Meditate on that for a bit. Marinate in it and let it sink in.
Trust
I have attempted to unveil some of the mystery of who and what you are in Christ. You are the son or daughter of God. Even the adopted are true legitimate family. But we in the end have not really been adopted. God is our heavenly Father by blood. He created every single one of us. He made us to be like Him and to be one with Him just as the Son was one with Him. To be one with the Son is to be one with the Father. It is to be made perfect with God. The Bible tells me so!
Consider this… How many times has it been said about infants, he looks just like you… she has your eyes? Then, as these children get older and mature, not only do they resemble their parents physically, they also resemble them characteristically, taking on their traits. At some point, it is almost as if they have become just like mom and dad; you know… like father like son.
Like Father like son and daughter.
See what great love the Father has lavished on us, that we should be called children of God! And that is what we are! The reason the world does not know us is that it did not know him. Dear friends, now we are children of God, and what we will be has not yet been made known. But we know that when Christ appears, we shall be like him, for we shall see him as he is. All who have this hope in him purify themselves, just as he is pure. 1 John 3:1-3 (NIV)
We were created in His image. So why is it heresy to believe that in glory you are a god? I don't know or understand what is meant by that except to believe that if God said it through the prophet, and then Jesus said it, He meant what He said. Our human temporal finite mind that continues to deal with pride and ego in an endeavor to be humble cannot quite wrap our minds around it. When Jesus went around claiming to be God ('big G') it was a big deal. It's not controversial to you and me because we know how it all turns out. But at that time, they didn't know how it all turns out. Not everyone was in His inner circle. Those who were, had hope but even they didn't believe in Christ's resurrection until they experienced it. There was believing and then there was trusting in what they believed.
There lies the rub. Do you really trust in what you believe? This is the point again where and when you believe in what God can do (intellectually, I suppose), and then there is where and when you believe in what God will do (more of an emotional problem), and what you have confidence you will experience in the age of perfection into glory.
Well, it is what it is. It is truth that can affect so much of what we read in Scripture. When my pastor, Fran Leeman, speaks of the new creation in Christ, the following is the Scripture he brings to life. Keep in mind that Jesus agreed with the prophet that, having been raised with Him into glory, we "are gods."
We know that God causes everything to work together for the good of those who love God and are called according to his purpose for them… And having chosen them, he called them to come to him. And having called them, he gave them right standing with himself. And having given them right standing, he gave them his glory. Romans 8:28, 30 (NLT)
What might you understand now about your calling? The Bible says the the Saints—us—will reign with Christ on the earth for a thousand years. It makes a bit more sense once you realize who you are in the age of glory; which by then you will be. What will you like, glorified, in the image of God, capable of beholding the glory of all that Jesus is, as the Apostle John described in Revelation 1.
"Suddenly, I heard behind me a loud voice like a trumpet blast… his eyes were like flames of fire… his voice thundered like mighty ocean waves… a sharp two-edged sword came from his mouth… And his face was like the sun in all its brilliance. Revelation 1:10-16 (NLT)
That's what glory looks like, sounds and feels like?
When I saw him, I fell at his feet as if I were dead. Revelation 1:17 (NLT)
John initially was so terrified at what he saw, heard and felt that he thought it killed him… for real! What might we look like in the age of perfection that we are transformed into that same image "from glory to glory"?
When one turns to the Lord, the veil is taken away. Now the Lord is the Spirit; and where the Spirit of the Lord is, there is liberty. But we all, with unveiled face, beholding as in a mirror the glory of the Lord, are being transformed into the same image from glory to glory, just as by the Spirit of the Lord. 2 Corinthians 3:16-18 (NLT)
Right now as disciples of Jesus, we experience transformative change and reflect the glory of God. But there is glory concerning the character of Jesus the King of kings, and then there is glory concerning His majesty and sovereign authority over creation. How do we fit in? The first Adam was created to be lord over God's creation until he fell. The last Adam, Jesus, is the authority over all creation as Lord of lords. It appears that the King sees that the full restoration of humanity is that it once again returns to the status it was always intended to have.
So, what will we look like from glory to glory? I don't know except to refer to Scripture. I believe it is suggesting that the earthly man is unable to even look upon the face of the spiritual man made righteous in Christ, or as C.S. Lewis would say, as "gods and goddesses" the earthly man would be tempted to worship.
Not that we are sufficient of ourselves to think of anything as being from ourselves, but our sufficiency is from God,  who also made us sufficient as ministers of the new covenant, who also made us sufficient as ministers of the new covenant, not of the letter but of the Spirit; for the letter kills, but the Spirit gives life. if the ministry of death, written and engraved on stones, was glorious, so that the children of Israel could not look steadily at the face of Moses because of the glory of his countenance, which glory was passing away, how will the ministry of the Spirit not be more glorious? For if the ministry of condemnation had glory, the ministry of righteousness exceeds much more in glory. For even what was made glorious had no glory in this respect, because of the glory that excels. For if what is passing away was glorious, what remains is much more glorious. 2 Corinthians 3:5-11 (NKJV)
It's no wonder John fell as dead seeing Jesus glorified.
That being said…
What shall we say about such wonderful things as these? If God is for us, who can ever be against us? Romans 8:31 (NLT)
Or… If God is for this, who can ever be against this? This is reality and will be experienced in the reality of the coming glory in the age of perfection. It's the plan!
No power in the sky above or in the earth below—indeed, nothing in all creation will ever be able to separate us from the love of God that is revealed in Christ Jesus our Lord. Romans 8:39 (NLT)
Who shall separate us from the love of Christ? Shall tribulation, or distress, or persecution, or famine, or nakedness, or peril, or sword? As it is written:
"For Your sake we are killed all day long;
We are accounted as sheep for the slaughter."
Yet in all these things we are MORE than conquerors through Him who loved us. Romans 8:35-37 (NKJV)
Have you fully considered this truth considering your calling… your purpose, your place in the big picture? Paul didn't just write that in Christ we can conquer death and everything less than death. He said we are more. Just as Jesus isn't just above all this—He is far above it all—we in Christ are far more than conquerors, meaning that in Christ… wait for it… you can conquer the conqueror! Let that sink for awhile.
Now, when fully considering the truth laid out throughout this chapter, take another look at one of the more empowering pieces of Scripture and see if you perhaps have a fresher, bolder perspective of the veracity of it.
Therefore, I urge you, brothers and sisters, in view of God's mercy, to offer your bodies as a living sacrifice, holy and pleasing to God—this is your true and proper worship. Do not conform to the pattern of this world, but be transformed by the renewing of your mind. Then you will be able to test and approve what God's will is—his good, pleasing and perfect will. Romans 12:1-2 (NIV)
Once you see yourself as God sees you, as described by the prophet (Psalm 82:6) and Jesus (John 10:34), why would you align yourself with the pattern of this age; the age of perversion and haughty ambition? But rather, be transformed… experience authentic divine change that fully restores your humanity. Think as Jesus thinks.
These are the things God has revealed to us by his Spirit. The Spirit searches all things, even the deep things of God… What we have received is not the spirit of the world, but the Spirit who is from God, so that we may understand what God has freely given us… words taught by the Spirit, explaining spiritual realities… The person without the Spirit does not accept the things that come from the Spirit of God but considers them foolishness, and cannot understand them because they are discerned only through the Spirit… We have the mind of Christ.  1 Corinthians 2:10-16 (NIV)
The mind of Christ is not proud. It is not arrogant. Jesus always possessed a servant's heart. Jesus desires that we be eager to receive all that He wants and has for us like children anticipating the generous goodness of their gracious loving father.
Much of what I have written for you here is well beyond the wildest imagination. It is "transtemporal," transfinite hope of our deepest desires in Christ for the coming glory in the age of perfection. If God chooses to deem us gods and goddesses because it's the idea in His grand scheme of things, then so be it.
Now all glory to God, who is able, through his mighty power at work within us, to accomplish infinitely more than we might ask or think. Ephesians 3:20 (NLT)
It is your destiny fully restored, made complete for all of time. It's a whole lot more and a whole lot better than the duration of eternity. Life as God intended from the beginning is for you and me… paradise; experiencing our inheritance—our deepest desires fulfilled… utterly satisfied… gods in God's heaven. So next time you are in a conversation about everlasting life, perhaps the emphasis shouldn't be so much on 'everlasting', as it tends to be, but insist on emphasizing the life. The party is in a very real heaven. You can be absolutely confident about that!
It is for this reason that our Savior was born unto us!
When I finished this and read through it again, it seemed the only thing to do was to worship. So I have for you Kari Jobe leading us to worship with THE RESURRECTION SONG. Enjoy!