by Steven Gledhill for FREEdom from MEdom Project
I keep asking that the God of our Lord Jesus Christ, the glorious Father, may give you the Spirit of wisdom and revelation, so that you may know him better. I pray that the eyes of your heart may be enlightened in order that you may know the hope to which he has called you, the riches of his glorious inheritance in his holy people, and his incomparably great power for us who believe. That power is the same as the mighty strength he exerted when he raised Christ from the dead and seated him at his right hand in the heavenly realms, far above all rule and authority, power and dominion, and every name that is invoked, not only in the present age but also in the one to come. Ephesians 1:17-21 (NIV)
Why is it that we who say we are in right relationship with Jesus Christ struggle to experience the freedom that Jesus talked about when He said that we are indeed set free by truth about faith? Why is it that we tend to give in to temptation and enact selfish lifestyle choices that rob and destroy rather than experience the abundantly full life that was promised by Jesus? Why is it that we tend not to trust God enough to fully turn our will and life over into His care and experience the transcendent peace that covers our hearts in relationship with Christ? Why is it that we cannot seem to let go of the history that we allow to shame us into self-condemnation when the debt for our sin was paid by Jesus?
Concerning the selfish mistakes committed by you and by me in this carnal body and mind of flesh, the Apostle Paul said the following that applies to what happens to us in the grace of relationship with Jesus Christ. Notice that Paul speaks of our sin in the past tense; not about what we did, but rather about what we were in comparison to what we are because of who we are in Christ.
In Our Mess
And that is what some of you were. But you were washed, you were sanctified, you were justified in the name of the Lord Jesus Christ and by the Spirit of our God. 1 Corinthians 6:11 (NIV)
I will admit right up front that I am sharing with you another message from Pastor Fran Leeman (YourLifeSpring.org) with my spin on what I received in my spirit from God's Spirit. I was taken back by powerful truth Pastor Leeman shared from God's Word concerning who, what, and where we are in the Kingdom of God.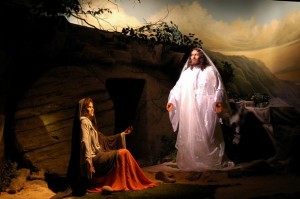 If we are "out of our mind," as some say, it is for God; if we are in our right mind, it is for you. For Christ's love compels us, because we are convinced that one died for all, and therefore all died. And he died for all, that those who live should no longer live for themselves but for him who died for them and was raised again. So from now on we regard no one from a worldly point of view. Though we once regarded Christ in this way, we do so no longer. Therefore, if anyone is in Christ, the new creation has come: The old has gone, the new is here! 2 Corinthians 5:13-17 (NIV)
Pastor Leeman discovered something profoundly interesting and powerful in his recent study of the New Testament. He found that the Greek word in ancient manuscripts for the word 'world'  in the context of this Scripture from 2 Corinthians and others has been poorly translated. When Apostle Paul is writing to us about "the new creation", he is not necessarily speaking of transformation as "re-creation" of the person, so much as he is writing about a new time; a new age of how to be and live since we have died with (baptized into his death), and been resurrected with Christ; our humanity fully restored. We who have turned from our selfish sin as a way of life and have surrendered our will over to resurrected Jesus, have entered into the new age that is His eternal plan; the Kingdom of God having come. We have died to the former age, no longer living from the point of view of instant temporary gratification, but now resurrected with Christ into the new age of His Kingdom. The new creation is humanity fully restored into what it was originally created to be: righteous and beautiful.
When Jesus absorbed our sin at the cross, our sin was condemned in the soul of Christ (Romans 8:3) for all eternity, removing our sin as far as the east is from the west (Psalm 103:12). I believe this is central to Paul writing that for anyone who is in Christ, having repented (turned away) from selfish sin, "the new creation has come: The old has gone, the new is here!" In relationship with Christ, we have died to the age that is condemned in its sin, and we're reborn spiritually—adopted into the new eternal age that is the Kingdom of God, here today.
Therefore, I urge you, brothers and sisters, in view of God's mercy, to offer your bodies as a living sacrifice, holy and pleasing to God—this is your true and proper worship. Do not conform to the pattern of this world, but be transformed by the renewing of your mind. Then you will be able to test and approve what God's will is—his good, pleasing and perfect will. Romans 12:1-2 (NIV)
In view of believing into what Jesus did for us through His sacrifice and resurrection, Paul urges us to take on a new age perspective about who we are in relationship with Him. Pastor Leeman pointed out that the original Greek word for 'world' in this passage is 'aion', which is translated in English as (can you guess?) 'age'. What if this Scripture read, "Do not conform to the pattern of this age, but be transformed by the renewing of your mind"? We might come to understand that having been saved by grace into the age of resurrection, what needs to change is how we think and live. This necessitates transformation to renew our minds into a new confidence because of who we are, and where we are, in the new life experience. This new age of resurrection into glory even on this side of heaven, if fully realized would indeed revolutionize our approach to each day that we live. How could it not?
In the Light of the New Age
This is the message we have heard from him and declare to you: God is light; in him there is no darkness at all. If we claim to have fellowship with him and yet walk in the darkness, we lie and do not live out the truth. But if we walk in the light, as he is in the light, we have fellowship with one another, and the blood of Jesus, his Son, purifies us from all sin. If we claim to be without sin, we deceive ourselves and the truth is not in us. If we confess our sins, he is faithful and just and will forgive us our sins and purify us from all unrighteousness. If we claim we have not sinned, we make him out to be a liar and his word is not in us. 1 John 1:5-10 (NIV)
There is the age of darkness and the age of light. While we walk in this age of darkness in our natural bodies, we do so with the light of Christ alive in our spiritual hearts. Pastor Leeman talked about the moment that Jesus breathed into the hearts and minds of His disciples as a life-giving experience. In the book of Genesis God breathed life into Adam who in time did sin, resulting in man's separation from God.
Suddenly, Jesus was standing there among them! "Peace be with you," he said. As he spoke, he showed them the wounds in his hands and his side. They were filled with joy when they saw the Lord! Again he said, "Peace be with you. As the Father has sent me, so I am sending you." Then he breathed on them and said, "Receive the Holy Spirit." John 20:19-22 (NIV)
Jesus breathed new life into the disciples in the New Testament reconciling man back into right relationship with God, ushering us into the new kingdom age of resurrection by His grace. John wrote that this breath of life is the light of God shining brightly in the darkness. He writes that where we were was dark in those dark ages; but today we live in the age of grace, resurrection, and light. Whenever we confess our sin it is not from the place of darkness. God is just to forgive us as we live in the light of the new age—in the hope and certainty of resurrection. He sacrificed His Son from the beginning to make resurrection (new life) certain for us.
See what great love the Father has lavished on us, that we should be called children of God! And that is what we are! The reason the world does not know us is that it did not know him. Dear friends, now we are children of God, and what we will be has not yet been made known. But we know that when Christ appears, we shall be like him, for we shall see him as he is. All who have this hope in him purify themselves, just as he is pure. 1 John 3:1-3 (NIV)
This is Scripture that takes on much more powerful emphasis when it is understood from the perspective of who we are in the Kingdom age of grace. Scripture can be confusing on the subject of sin unless it is considered from this perspective. The next several verses in 1 John 3 go on to say that to continue in sin is to break God's law; even to align with the devil. But when this Scripture is dealt with in the context of the two ages, those being darkness and light, it divides people into what they were and what they are, as opposed to what they did and what they do.
Everyone who sins breaks the law; in fact, sin is lawlessness. But you know that he appeared so that he might take away our sins. And in him is no sin. No one who lives in him keeps on sinning. No one who continues to sin has either seen him or known him… This is how we know that we belong to the truth and how we set our hearts at rest in his presence: If our hearts condemn us, we know that God is greater than our hearts, and he knows everything. Dear friends, if our hearts do not condemn us, we have confidence before God and receive from him anything we ask, because we keep his commands and do what pleases him. 1 John 3:4-6, 19-22 (NLT)
Understand this truth: John is not writing that those who are in relationship with Christ will never sin. After all, he wrote that when we do sin and confess it, God is faithful to forgive. However, had we blown out the light of God and chosen to embrace the age of darkness, we would have never really seen or known Him. Had we, how could we reject the fullness of abundant life in favor of torturous death (hell)? How could we choose pain and struggle in favor of peace and joy? When trusting God by faith, we are certain of this hope of the light of the new day, trusting in the evidence of our spiritual experience, even if it is unseen by our human eyes.
Do not love the world or the things in the world. If anyone loves the world, the love of the Father is not in him. For all that is in the world—the lust of the flesh, the lust of the eyes, and the pride of life—is not of the Father but is of the world. And the world is passing away, and the lust of it; but he who does the will of God abides forever. 1 John 2:15-17 (NKJV)
For the grace of God that brings salvation has appeared to all men, teaching us that, denying ungodliness and worldly lusts, we should live soberly, righteously, and godly in the present age, looking for the blessed hope and glorious appearing of our great God and Savior Jesus Christ. Titus 2:10-13 (NKJV)
Once again, when considering the translation 'aion' or 'age' in the context of this passage for the word 'world', it appears that Apostles Paul and John are stating the obvious. Since Jesus has buried into condemnation the sins of this former age, why would I cling to it? Why would I lust after, covet, and embrace the addictive things of this age that are passing away in the light of this new age of resurrection into grace? Why would I fall back into love with something that is dead and decomposing? My sin nature continues to look and reach back but in relationship with Christ, clean in the eyes of God, it runs contrary to my new nature in the hope of this new age of grace to take pride in what I was before. In relationship with God, I am reconciled, renewed, and restored into what God created me to be in the first place.
It's a new day! It is a day of hope! It is the experience of such hope that we are pure in the sight of God. Since this is the truth about the age of light—because God's Word says so—when we struggle with forgiveness (How can God forgive me this time?), it really is our problem between our ears since we are not who and what we were, but rather that we are now the new creation in the light of the new day.
Now, brothers and sisters, about times and dates we do not need to write to you, for you know very well that the day of the Lord will come like a thief in the night. While people are saying, "Peace and safety," destruction will come on them suddenly, as labor pains on a pregnant woman, and they will not escape. But you, brothers and sisters, are not in darkness so that this day should surprise you like a thief. You are all children of the light and children of the day. We do not belong to the night or to the darkness. I Thessalonians 5:1-5 (NIV)
Citizens of Heaven
Apostle Paul writes in this passage that there is a distinct difference between those living as citizens of heaven in the hope of the new day (age) and those who will be shocked by the sudden invasion of the Day of the Lord as if a thief invaded their home or like sudden labor pains when new life is breaking through from the woman who didn't realize she was pregnant. Those who already realize they are pregnant with the hope and promise of new life are already living in anticipation of the experience of glory. The light of day in the new age of grace and resurrection is already at hand.
The challenge and promise is to choose to live in the light of the day. The challenge is to live in freedom. If only we could really… and I mean, really… believe this. We have the Bible, the written the Word of God. We have the testimony of the prophets and witnesses who have written of profound and powerful truth. What would it mean and do for us when tempted by our selfish, deceitful flesh if we could lay hold of the truth and promise of who and what we are in Christ?
Therefore we also, since we are surrounded by so great a cloud of witnesses, let us lay aside every weight, and the sin which so easily ensnares us, and let us run with endurance the race that is set before us, looking unto Jesus, the author and finisher of our faith, who for the joy that was set before Him endured the cross, despising the shame, and has sat down at the right hand of the throne of God. Hebrews 12:1-2 (NKJV)
Having heard this truth this past Sunday, redefines for me a whole lot of Scripture. The passage above from Hebrews 12 should remind us that we live in the age of resurrection with all of the great people of faith who have already passed into that side of heaven. The race set before us is new age living with a glorious purpose and calling. So why don't we shed the weight? Why is it so difficult, for the joy that was set before us—what we have to look forward to, to endure our dealings on this side of heaven?
What a wretched man I am! Who will rescue me from this body that is subject to death? Thanks be to God, who delivers me through Jesus Christ our Lord! So then, I myself in my mind am a slave to God's law, but in my sinful nature a slave to the law of sin. Therefore, there is now no condemnation for those who are in Christ Jesus, because through Christ Jesus the law of the Spirit who gives life has set you free from the law of sin and death. For what the law was powerless to do because it was weakened by the flesh, God did by sending his own Son in the likeness of sinful flesh to be a sin offering. And so he condemned sin in the flesh, in order that the righteous requirement of the law might be fully met in us, who do not live according to the flesh but according to the Spirit. Romans 7:24-8:4 (NIV)
What could not be accomplished by the law of Moses in the previous age, a temporary fix until the coming of the Messiah, is accomplished through the death of the flesh age and resurrected into the life of the new Spirit age. When I understand this, transformed with a renewed way of thinking from an eternal perspective as one alive today in the new age, it brings more life to so much more of what Scripture describes as our glorious future, while in a present tense. Paul obviously had incredible insight into this most glorious reality.
Many live as enemies of the cross of Christ. Their destiny is destruction, their god is their stomach, and their glory is in their shame. Their mind is set on earthly things. But our citizenship is in heaven. And we eagerly await a Savior from there, the Lord Jesus Christ, who, by the power that enables him to bring everything under his control, will transform our lowly bodies so that they will be like his glorious body. Philippians 3:18-21 (NIV)
Apostle Paul is writing that we are already alive in the new eternal age as citizens of heaven anticipating the appearance of our Host. He is in the house preparing your room and mine as we anxiously prepare our hearts to break bread with Him at the banquet table. The table is set for a feast, but when our hearts are right, the food is an afterthought. It is being with the One we love that is at the forefront of our experience.
When I first dated my wife and took her to dinner, as hungry as I was for a meal, it hardly mattered to me. Her beauty captivated me. I was nervous. I desperately craved her attention and affection. As corny as it sounds, I got lost in her eyes and in her conversation. It was as though I was in a different place and time as if we were the only two in the room. Eating the dinner was a formality. All I cared about was relationship with her. I believe that is what Paul is writing about in Philippians chapter 3. It isn't about the meal, Paul is starving for relationship with His Lord. He is lost in the beauty of His majesty. Paul is captivated by the Spirit of His compassionate mercy and love. Paul is overwhelmed by the attention and generous affection of Christ experienced in the depths of his soul. We live in that place with Christ right now, even as we walk and breathe with our mortal bodies still in this new, yet at the same time, former age.
With Dirty, Smelly Feet
Do not deceive yourselves. If any of you think you are wise by the standards of this age, you should become "fools" so that you may become wise. 1 Corinthians 3:18 (NIV)
Being that we are still here on planet earth, even while having minds focused on doing the will of God, Paul writes in Romans chapter 7 that we are still influenced by the presence of our sinful nature prone to selfishness. Our sinful nature is a slave to the law of sin, still. The law of sin is that it falls short of the glory of God (Romans 3:23) and has been condemned to eternal dying (Romans 6:23). The sinful nature is attached to the former age, that which Christ has delivered us from. Paul writes that while our sinful nature continues to be a slave to the eternal consequence of sin, and we must continue to contend with the matter of that sinful nature present within us, we are no longer a slave to that sinful nature when we submit to the reality of who we are in the new eternal age in relationship with Christ.
The problem is that while we are cleansed in the righteousness of Jesus Christ, justified by faith (Romans 6), we will still get dirty when we give in to our selfish sinful nature. We are clean in the sight of God, our sin removed at the cross as we are delivered into the eternal age resurrected with Jesus, but dirty at the same time while also trying to manage where we live in this world—in this current/former age that is eternally dying.
Take a look at this story from John 13:3-12 (NIV). Read it carefully from the perspective of what you have read here. Consider what water baptism represents for the believer, the former self (age) dying going into the water only to be resurrected into new life (the new age). Water baptism is also symbolic of being bathed in the righteousness of our resurrected Lord and Savior. Read this with eyes to see and ears to hear what the Spirit is saying.
3 Jesus knew that the Father had put all things under his power, and that he had come from God and was returning to God; 4 so he got up from the meal, took off his outer clothing, and wrapped a towel around his waist. 5 After that, he poured water into a basin and began to wash his disciples' feet, drying them with the towel that was wrapped around him.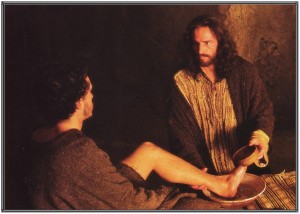 6 He came to Simon Peter, who said to him, "Lord, are you going to wash my feet?"
 7 Jesus replied, "You do not realize now what I am doing, but later you will understand."
 8 "No," said Peter, "you shall never wash my feet."
   Jesus answered, "Unless I wash you, you have no part with me."
 9 "Then, Lord," Simon Peter replied, "not just my feet but my hands and my head as well!"
 10 Jesus answered, "Those who have had a bath need only to wash their feet; their whole body is clean. And you are clean, though not every one of you." 11 For he knew who was going to betray him, and that was why he said not every one was clean.
 12 When he had finished washing their feet, he put on his clothes and returned to his place. "Do you understand what I have done for you?" he asked them.
So what did you get from this story that maybe wasn't so obvious before? The story is about servanthood, no question about that. But something else is in there. Because of who we are as citizens of heaven today in the new eternal age of glory, we have been bathed clean in the righteousness of God through Christ Jesus in His resurrection. We are declared 'good' in the sight of God, just as Jesus was, only upon being resurrected into the new eternal age of glory while still a man, just before ascending to His position as King of kings and Lord of lords. We are adopted into the family that is the Kingdom of God, the eternal age that has come. We are in relationship with the Rock of… Ages.
In this reality, while we walk around in this world (aion) our new eternal age bodies are clean in the Spirit (new eternal age), but because of the sin nature we still contend with in this life on earth in the age of flesh, our feet smell. We have an Advocate in Christ who continuously washes our feet each time we return to Him to confess our sin. The whole body doesn't need a bath, Jesus did that already. Only are smelly feet need washing. We are then called to confess to one another and disciple one another washing each other's feet in a spiritual sense, carrying one another's burden while persecuted in the "former" age for His name sake; representative of what Jesus does for us continually.
What amazing truth! Meditate on it for awhile. Allow it to be your inspiration for recovery from all of the stuff in this life gets your feet dirty. Recognize who you are from God's perspective; then find joy in that, no matter what you are facing today.
Anyone who listens to the word but does not do what it says is like someone who looks at his face in a mirror and, after looking at himself, goes away and immediately forgets what he looks like. But whoever looks intently into the perfect law that gives freedom, and continues in it—not forgetting what they have heard, but doing it—they will be blessed in what they do. James 1:23-25 (NIV)
Once we, too, were foolish and disobedient. We were misled and became slaves to many lusts and pleasures. Our lives were full of evil and envy, and we hated each other. But when God our Savior revealed his kindness and love, he saved us, not because of the righteous things we had done, but because of his mercy. He washed away our sins, giving us a new birth and new life through the Holy Spirit. He generously poured out the Spirit upon us through Jesus Christ our Savior. Because of his grace he declared us righteous and gave us confidence that we will inherit eternal life. Titus 3:3-7 (NLT)