by Steven Gledhill for FREEdom from MEdom Project

Amazing love!
How can it be,
That Thou, my God,
Shouldst die for me?
If you are looking for Jesus on the cross, you'll not find Him there. Your sin has been removed from your past, present, and future. The stone that has kept you in bondage has been rolled away. You have been raised up with Jesus through relationship with Him. Leave the stench of the grave clothes of your past behind, and experience the sweet aroma that is freedom into new life. He has washed you clean in his grace. Soak yourself in the river of living water.
"The death of Jesus was qualitatively different from any other death. The physical pain was nothing compared to the spiritual experiences of cosmic abandonment… On the cross he went beyond even the worst human suffering and experienced cosmic rejection and pain that exceeds ours as infinitely as his knowledge and power excels ours. In his death, God suffers in love, identifying with the abandoned and godforsaken." —Timothy Keller, The Reason for God
What Did Grace Cost Him?
Jesus was forsaken by his Father; forsaken by the plan for reconciliation and redemption; forsaken by the divided loyalty of a dear friend; forsaken by the cost of my sin. But then, at the day of resurrection, having paid my debt, Jesus Christ (Christ meaning Messiah, Chosen One, Anointed One, Deliverer, Expectant King) fulfilled the plan of redemption in becoming grace for you and for me. While our sin cost us everything, the wages of our sin cost God everything in the life of His son.
As we remember the sacrifice of our Savior and Lord celebrating his resurrection, it is important to consider the weight of the burden He carried and the pain he bore in the sacrifice for all sin. If this is your first visit to FREEdom from MEdom Project, everything that you read and experience throughout your time here is built on the premise that in relationship with Jesus Christ is the promise and opportunity for healing and redemption into new life, or what I like to call, the best of a new life experience. Let it all seep into the depths of your heart, mind, and soul.
4 Surely he took up our pain and bore our suffering,
yet we considered him punished by God, stricken by him, and afflicted.
5 But he was pierced for our transgressions, he was crushed for our iniquities;
the punishment that brought us peace was on him, and by his wounds we are healed.
6 We all, like sheep, have gone astray, each of us has turned to our own way;
and the Lord has laid on him the iniquity of us all.
7 He was oppressed and afflicted, yet he did not open his mouth; he was led like a lamb to the slaughter,
and as a sheep before its shearers is silent, so he did not open his mouth.
8 By oppression and judgment he was taken away. Yet who of his generation protested?
For he was cut off from the land of the living; for the transgression of my people he was punished.
9 He was assigned a grave with the wicked, and with the rich in his death,
though he had done no violence, nor was any deceit in his mouth.
10 Yet it was the Lord's will to crush him and cause him to suffer,
and though the Lord makes his life an offering for sin,
he will see his offspring and prolong his days, and the will of the Lord will prosper in his hand.
11 After he has suffered, he will see the light of life and be satisfied;
by his knowledge my righteous servant will justify many, and he will bear their iniquities.
12 Therefore I will give him a portion among the great, and he will divide the spoils with the strong,
because he poured out his life unto death, and was numbered with the transgressors.
For he bore the sin of many, and made intercession for the transgressors. Isaiah 53:4-12 (NIV)
(Sympathetic Savior is a four part series. You are reading Part 4: Christ's Sacrifice. The following are links to the first three parts: Part 1: Christ's Humanity, Part 2: Christ's Temptation, Part 3: Christ's Relationships)
So then, since we have a great High Priest (advocate) who has entered heaven, Jesus the Son of God, let us hold firmly to what we believe. This High Priest of ours understands our weaknesses, for he faced all of the same testings we do, yet he did not sin. So let us come boldly to the throne of our gracious God. There we will receive his mercy, and we will find grace to help us when we need it most. Hebrews 4:14-16 (NLT)
I think what we need here is a both/and approach to this revealing aspect of the humanity of Jesus.  Jesus is both, by nature God, and, he chose to humble himself from heaven all the way down to the essence of earth and flesh, to lay down his divine standing, and become fully human.
Though he was God, he did not think of equality with God as something to cling to. Instead, he gave up his divine privileges; he took the humble position of a slave and was born as a human being. When he appeared in human form, he humbled himself in obedience to God… Philippians 2:6-8 (NLT)
Having sacrificed his own divine nature to fully experience our human nature—a decision made prior to the creation of any living thing—it was paramount that Jesus surrender himself to doing the will of God. Remember that he said that he came not seeking his own will. Why not? Could it be that the human intentions of Jesus were flawed; compromised by his human intentions and desires of the flesh?
 I can of Myself do nothing. As I hear, I judge; and My judgment is righteous, because I do not seek My own will but the will of the Father who sent Me. John 5:30 (NKJV)
"Consider how our Lord regards His own Sonship, surrendering His will wholly to the paternal will and not even allowing Himself to be called 'good' because Good is the name of the Father. Love between father and son, in this symbol, means essentially authoritative love on the one side, and obedient love on the other. The father uses his authority to make the son into the sort of human being he, rightly, and in his superior wisdom, wants him to be." —CS Lewis, The Problem of Pain
Recognizing his human inadequacy in comparison to who and what he was fully God, Jesus spent more time in prayer and communal fellowship with God than any person that lived before him and anyone since. (It was not merely a formality or ritual that Jesus went off alone with the Father fasting for forty days as he prayed fervently and most likely with a sense of desperate urgency preparing for an undertaking like no one has ever known.) Jesus did not act sinfully on his willful intentions in any way. He did not entertain his selfish desires in his mind or they would have conceived in him sin. Jesus grew to understand that his will was by nature flawed and weak, and he was powerless against it. It was, therefore, imperative that he direct his intentions unto submission to the will of God by way of willing obedience.
Let's carefully and honestly examine these words from the lips of Jesus himself.
"I can do nothing on my own. I judge as God tells me. Therefore, my judgment is just, because I carry out the will of the one who sent me, not my own will." John 5:30 (NLT)
A. Jesus admitted that his will was inferior in the flesh rendering him powerless.
"I can do nothing on my own…"
B. Jesus believed that the will and authority of God the Father was superior to his own.
"I judge as God tells me… Therefore, my judgment is just."
C. Jesus committed to turn his human will over to God in submission to his perfect will.
"I carry out the will of the one who sent me, not my own will."
Is this over-parsing the words of Jesus, or is it taking him literally at his word… that he meant what he said? Jesus did not tell us as merely a command to obey the commandments to love God with all of our being, and to love our neighbor as ourselves. Jesus knew that the only way he would survive the tug of temptation to satisfy his own selfish desires in the flesh, he must be obedient to the will of God, and to trust and depend on him so long as he was fully human in "the likeness of sinful flesh", according to Apostle Paul.
Jesus sympathizes with our condition that leads to complex difficulties, not only because we have a sin addiction but because we are under the lure law of sin. We learn obedience because of consequences we suffer under the impact of sin.  According to Scripture, this was the experience of Christ as well.
For we do not have a high priest who is unable to sympathize with our weaknesses, but we have one who has been tempted in every way, just as we are—yet was without sin… He can have compassion on those who are unaware and going astray, since He himself was also subject to weakness… Jesus, in the days of His flesh, when He had offered up prayers and supplications, with vehement cries and tears to God who was able to save Him from death, and was heard because of His godly fear, though He was a Son, learned obedience by the things which He suffered. Hebrews 4:15 (NIV), 5:2, 7-8 (NKJV)
The Bible tells us that Jesus learned obedience by the things which he suffered.  One aspect to learning obedience through suffering is having to suffer the consequences of, 1) your own selfish sin and, 2) enduring the consequences as an inhabitant of a world dominated—owned and enslaved—by selfish sin, or in other words, subject to the "law" of sin.
In our condition of human flesh we will definitely die. The body of Jesus was obedient to the law of sin, just as yours and mine is. Jesus needed rest and food in order to survive. Had he not died by way of execution, he would have died of old age, or from disease or injury. The physical body of Jesus would have declined and decayed as ours does as we get older, even though he did not sin, because he was affected by, even under the authority of, the law—the mandate—of sin. As we as human beings obey the law of gravity as a constant inevitability, we learn to obey the constant inevitability of sin by what we suffer at its hand. Jesus learned this as well by the way he suffered as a human being. The Bible tells us that Jesus was subject to weakness, and that he learned obedience by the things which he suffered, which I was the result, or consequence, of his weakness as a person of flesh. In other words, Jesus would, in his body and mind, be subject to the forces of natural laws.
I cannot know what kind of sacrifice this was on the part of Christ. I'd be lying if I said I understand how Jesus "gave up his divine privileges" (Philippians 2:7), that as God He came to us "in the likeness of sinful flesh" (Romans 8:3) in order to share in our human experience. Jesus was obedient in his humanity to remain committed to serving us in human form to the extent that he would die sacrificially on a cross as the payment for your sin and mine.  He would then rise up from the dead as the precursor of our resurrection from the graveyard of our sin.
Overwhelmed
As he rode along, the crowds spread out their garments on the road ahead of him. When he reached the place where the road started down the Mount of Olives, all of his followers began to shout and sing as they walked along, praising God for all the wonderful miracles they had seen.
"Blessings on the King who comes in the name of the Lord!
Peace in heaven, and glory in highest heaven!" Luke 19:36-38 (NLT)
What a difference a week makes!
One week later, Jesus would be so stressed and overcome about the immeasurable beating that would be levied against him; the unbearable pain of dying on a cross to take into him our sin disease; the immeasurable tragedy of being separated from God his Father; one week after being celebrated by thousands he would sweat blood through his pores anticipating the locomotive of torment coming right for him. Jesus would experience a deep sense of helplessness and despair, to the point that death itself may have been less painful than what he would have to endure through the events leading up to it, ultimately hanging by spikes on the cross.
He began to be sorrowful and deeply distressed. Matthew 26:37 (NKJV)
"My soul is overwhelmed by sorrow, even to death." Matthew 26:38 (NKJV)
As he prayed in the Garden of Gethsemane, Jesus was in such agony and torment that even when the angel appeared to strengthen him, he sweat blood. His physiological and psychological condition was such that blood came through his pores and dripped to the ground. Jesus was already shedding his blood.
"Then an angel appeared to Him from heaven, strengthening Him. And being in agony, He prayed more earnestly.  Then His sweat became like great drops of blood falling down to the ground." Luke 22:43-44 (NKJV)
We see in the garden and at the cross that the heart of Jesus bleeds for us. I think his Gethsemane experience reflects the phenomenal compassion that it took for him to go through with all of it. Anyone else executed by crucifixion was taken by force. Jesus did so willingly by choice.
The physician for sinners
This incredible sacrifice; who is it for? It is for you and for me. Who are we? We are sinners addicted to self-centered sin. Jesus hung out with sinners, according to what we see in Scripture.
Then all the tax collectors and the sinners drew near to Jesus to hear Him.  And the Pharisees and scribes complained, saying, "This Man receives sinners and eats with them."      Luke 15:1-2 (NKJV)
Now it happened as Jesus sat at the table in the house, that behold, many tax collectors and sinners came and sat down with him and his disciples. And when the Pharisees saw it, they said to His disciples. "Why does your teacher eat with tax collectors and sinners?"  When Jesus heard that, he said to them, "Those who are well have no need of a physician, but those do who are sick. But go and learn what this means: 'I desire mercy and not sacrifice.' For I did not come to call the righteous, but sinners to repentance." Matthew 9:10-13 (NKJV)
We are all sinners! We are addicted to sin. (Jesus replied, "I tell you the truth, everyone who sins is a slave of sin." John 8:34) We are sick with the sin disease. We are in bondage to it.  Jesus died so that we would be forgiven of our sin and freed from our bondage to its addictive power and control.
There he was, in the middle of that huge crowd hanging on a piece of wood, with open wounds rubbing against it every time he would push against the spikes driven through his ankles in order to catch a breath. I don't mean to sound redundant but you need to see this picture. And yet, until the very end he was not even thinking of himself.
Jesus was passionately focused on others. Jesus prayed for others while on the cross. Perhaps he was praying for the soldiers that nailed him down, or the Jewish priests that brought him to the place of his death. Perhaps he was praying for the multitudes looking on, either mourning his fate or mocking it; or for those he would consider friends that felt betrayed and denied knowing him. Maybe Jesus was referring to us; you and me, who willingly choose our self-centered wants over what God has and wants for us. Jesus, moved with compassion, humbly asked God,
"Father, forgive them, for they know not what they do." Luke 23:34 (NKJV)
Yet, after even that, he ministered to the criminal on the cross next to him and led him to faith. That very day the man would join God in Paradise. Considering he had a captive audience, Jesus likely would have tried to reach out to both of the criminals on either side of him. One criminal would believe that Jesus was indeed the way to God, while the other would reject Christ even as he hangs there to die. One would submit to the freedom only Christ could offer him, while one would remain submitted to his own cross for sin that bound him to death. As Scripture says, one will be taken and the other left.
"Then two men will be in the field; one will be taken and the other left. Two women will be grinding at the mill; one will be taken and the other left. Watch therefore, for you do not know the hour that the Lord is coming." Matthew 24:40-42 (NKJV)
In the case of the two thieves Jesus died next to, both had the opportunity to meet Jesus. One received his blessing of merciful forgiveness and the other rejected it. One was prepared that day for the coming of the Lord, and the other wasn't. To the one who received Jesus, he said, "Today, I take you with me to Paradise." The other will be eternally bound to his sin having separated himself forever from the generous mercy and love of his Savior, Jesus Christ.
Dr. Michael Easley (Moody Bible Institute) points out that when Jesus said in John's Gospel, "Let my friends go", he was saying, "Take me instead of them". Peter, as most of us are until truth is unveiled, did not understand that he was condemned for eternity unless Jesus takes his place. Jesus died and experienced condemnation on our behalf for the self-centered deeds we are responsible for. Dr. Easily points out that it's as though Jesus essentially said to God, "Take me and let my friends go free." In relationship with Christ, Jesus says that we are his friends. You are and I am a friend of Jesus as we are willing to participate in friendship with him. What breaks his heart is when we choose to reject the friendship Jesus offers. As our friend, he carried our cross and then died nailed to it. We were loosed from the master (sin) and set free (John 8:32-34).
Jesus could have established himself as the vehicle of God's authority at any time. He in fact put his power and authority on display in the Garden of Gethsemane. He was approached by a battalion of Roman troops; hundreds, perhaps as many as a thousand trained soldiers. Here is what happened.
Jesus fully realized all that was going to happen to him, so he stepped forward to meet them. "Who are you looking for?" he asked. "Jesus the Nazarene," they replied. "I Am he," Jesus said. (Judas, who betrayed him, was standing with them.) As Jesus said "I Am he," they all drew back and fell to the ground! John 18:4-6 (NLT)
Imagine that scene; an entire regiment of soldiers pinned to the ground by the Spirit of God long enough for Peter to draw a sword and take a swipe at the head of the servant of the high priest and slice his right ear. Imagine the look on the face of Malchus when Jesus healed his ear. Was it scary arresting Jesus at that point? Do you know why it wasn't? Jesus surrendered willingly as yet another powerful act of sacrifice. Incredible. Even in the splendor of authority and glory in the garden that night, Jesus lovingly set aside his will in yet another gracious act of compassion for your sake and mine.
Forsaken… Abandoned
What came next was the terror contained in his sacrifice. He would be abandoned by God: Father… Creator. Having by choice fallen from glory as himself Creator, Jesus the man would take the full blow of the tragedy of human selfishness.
Jesus would be blindfolded to suffer brutal torture from the soldiers of the high priests. Officials in authority struck Jesus in the face with the palms of their hands. They mocked Him, mercilessly, spitting on him while spewing crude remarks like, "You're a prophet… you know all… who just hit you?"
The following is the actual description of what Jesus actually experienced:
Some of the governor's soldiers took Jesus into their headquarters and called out the entire regiment. They stripped him and put a scarlet robe on him. They wove thorn branches into a crown and put it on his head, and they placed a reed stick in his right hand as a scepter. Then they knelt before him in mockery and taunted, "Hail! King of the Jews!" And they spit on him and grabbed the stick and struck him on the head with it. When they were finally tired of mocking him, they took off the robe and put his own clothes on him again. Then they led him away to be crucified. Matthew 27:27-31 (NLT)
Jesus must have understood at some point that the sin of the world had entered him. It must have been dreadful. Our sin carried within him our dissatisfaction, our pain, our anger and rage, our frustration, and our resentment and bitterness. Our sin filled the person of Jesus with our pride, our lust, our shame, our regret, our loneliness, our depression, and our failure. Ultimately, Jesus was profoundly connected to our isolation, our alienation, our desperation, and our despair. It must have left a bitter taste in his mouth, a foul smell in his nostrils, and perhaps the screams of demons in his ears. It must have been dreadful and gut-wrenching. He may have seen unspeakable filth in his imagination, and felt sensations of paranoia and fear from his insides. We cannot even imagine what Jesus experienced.
Then finally, when it didn't seem anything could be worse, the unthinkable occurred. Jesus felt all alone. He sensed that the one sure thing he could count on was missing. Where did his Heavenly Father go? Jesus felt abandoned by his Father, and cried out, "My God, My God, why have you forsaken he?" This is first time we see Jesus responding to his own need as a man. Suddenly, something was missing in his spirit. All along the way until now, amidst the disappointment, discouragement and even despair, he had known and felt his Father's presence. God's Spirit had been alive in him… or as John Eldridge would say… God's glory was what made Jesus fully alive while a man of flesh. No matter how treacherous the road of his ultimate destination would become, Jesus walked in the affirmation of his Father's love and approval. As close as Jesus was to Mary his mother, their bond paled in comparison to the unique bond he had with God his Heavenly Father at this time in his adult experience.
In that moment, Jesus was in the deepest, darkest and most unbearable place of desperate need. He was feeling his insides pulled down by gravity against the nails in his hands and feet. (Note: According to a television documentary regarding archaeological evidence of Roman crucifixions, an ankle and foot were discovered with a nail through the ankle from the outside to the inside of the ankle, suggesting that Jesus' legs and feet may have actually straddled the trunk of the cross, as if his death could have been more gruesome.) He could barely withstand the collapse of his torso causing him to literally suffocate as he attempted to push up to breathe. In the moment he took our sin into his being, Jesus needed his Father to be there for him now more than at any other time.
Something, or should I say, someone seemed to be missing.
And at the ninth hour Jesus cried out with a loud voice, "Eloi, Eloi, lama sabachthani?" which is translated, "My God, My God, why have you forsaken Me?" Mark 15:34 (NKJV)
Where was he?  Where was God?  Why was he not there?
What were the thoughts and feelings desperately coursing through the mind of our Lord alone on the cross?
"Father, I need you so much!"
"Where are you?!"
"How can you leave me?!"
"Why now?"
"O God, it hurts!"
"I beg of you, Father, return to me!"
"Oh please, come back to me!"
"I can't take it anymore!"
"Make it stop!"
"Please, take me home!"
I suspect that went on for three days and nights as Jesus experienced the horrific torment for the sin he didn't commit, yet became responsible for. Jesus was a human being like you and like me.
"My God, My God, why have you forsaken Me?"
When Jesus needed the support of his Father more than at any other time, as he experienced something he was not familiar with, he no longer sensed the presence of his Father. We can know for certain that this was unfamiliar territory for Jesus because he cried out emphatically, "My God, Why?!"
I wonder if just maybe this was not part of "the plan". Of course it had to be this way, but… I wonder if God the Father had every intention to be right there for his Son Jesus. Why would God forsake his only Son? I wonder if God the Father, in the moment that Jesus took our sin into his body, was Himself in deep anguish?
Had God abandoned his Son to the point that he didn't even hear his cries for help?
Does God forsake sin as a matter of divine law or principle?
I was taught growing up that God cannot be in the presence of sin. It is almost as though sin is to God what kryptonite is to Superman, or sunlight is to Dracula. Superman and Dracula become less of what they are in the presence of these adversaries. Sin and the evil within it do not make God any less of who he is. There is no doubt that God finds sin to be utterly offensive and is repulsed by it and is saddened by its effects against his creation. But if God is bigger and more powerful than evil and our addictive sin, why would he have to turn away from it?
Consider this, that perhaps it is not God forsaking his Son, but that perhaps Jesus, having been consumed with our sin, had forsaken God his Father as you and I forsake fellowship with God when we submit to selfish sin.  Think about it.  That is what we do when we are consumed with addictive sin. It so affects us spiritually that we don't even hear God when he calls out to us.  Adam had sin in him and God called out to them, "Adam, where are you?" (Genesis 3:9) Adam forsook God in his sin against God. There was consequence for Adam's sin, but God did not forsake Adam. I think it is possible that Jesus was so defiled by our sin, that he could no longer remain connected to God. I think it is the sin in the soul of the humanity of Jesus that broke the fellowship between Jesus and his God, not necessarily God breaking fellowship with his Son. While his body lay in the tomb, the sin absorbed into the soul of Jesus would experience condemnation.
The Wrath of God 
Jesus likened the time between his death and resurrection to spending three days and nights in the belly of a great fish.
"For as Jonah was for three days and three nights in the belly of the great fish, so will the Son of Man be for three days and three nights be in the heart of the earth." Matthew 12:40 (NKJV)
We have a tendency to ignore those three days and nights. Our focus is on the cross and resurrection, but what about the three days in between when Scripture tells us that our sin was condemned in the human soul of Christ?
Let's look at the story of Jonah for a moment. Jonah chose a course for his life that was in opposition to the will of God. The consequence of his choice not only brought grief and suffering to his own life but affected the lives of those touched by him along the way.
The men were exceedingly afraid and said, "Why have you done this?" For the men knew that he (Jonah) fled from the presence of the Lord, because he told them so. Then they said to him, "What shall we do to you that the sea may be calm for us?" – For the sea was growing more tempestuous. And he said to them, "Pick me up and throw me into the sea; then the sea will be calm for you. I know that this great tempest is because of me." Nevertheless the men rowed hard to return to land, but they could not, for the sea continued to grow more tempestuous against them. Therefore they cried out to the Lord and said, "We pray, O Lord, please do not let us perish for this man's life…" So they picked up Jonah and threw him into the sea, and the sea ceased from its raging. Now the Lord had prepared a great fish to swallow Jonah. And Jonah was in the belly of the fish for three days and three nights. Jonah 1:10-15, 17 (NKJV)
We need to consider Jonah's description of what that was like. Jonah felt as though he had died and gone to hell, the Bible tells us. He cried out to God from the depths of his grave in the belly of the giant fish and God rescued him from the pit of death and destruction.
From the inside of the fish Jonah prayed to the Lord his God. He said, "In my distress I called to the Lord, and he answered me. From the depths of the grave I called for help, and you listened to my cry. You hurled me into the deep, into the very heart of the seas, and the currents swirled about me; all your waves and breakers swept over me. I said, 'I have been banished from your sight; yet I will look again to your holy temple. The engulfing waters threatened me, the deep surrounded me; seaweed was wrapped around my head.  To the roots of the mountains I sank down; the earth beneath barred me in forever. But you brought my life up from the pit, oh Lord my God." And the Lord commanded the fish and it vomited Jonah onto dry land. Jonah 2: 1-6, 10 (NIV)
I can only imagine what Jonah must have experienced. In the belly of a whale for three days and nights must have felt like hell. It must have been pitch black in there—utter darkness. There was seaweed and likely scores of fish and a whole bunch of cold water. However, Jonah did not belong in the belly of the whale. Jonah's presence there did not agree its stomach.  Ultimately, Jonah, a disobedient prophet of God would look to the holy temple of God and vow to serve him. He would be restored by God and brought up from the depths of the grave into new life.
What happened to Jesus after he said, "It is finished" and died?  Where went the soul of Jesus the man once his body was dead? Is it possible that the human soul of Jesus, having been infected by the sin of mankind, was condemned to a kind of hell, one that Scripture refers to as Hades?  Did Jesus actually incur in his human experience condemnation of his soul of flesh? If so, it would be a human experience of the worst kind. It would imply that Jesus can even sympathize with all who are ultimately condemned to hell by their sin.
Look at what Jesus says to John in the book of Revelation.
"I am He who lives, and was dead, and behold, I am alive forevermore. Amen (so be it). And I have the keys of Hades and of Death." Revelation 1:18 (NKJV)
I believe this is most revealing about what happened to Jesus during the time between his death and his resurrection. His resurrection was not merely resurrection from his physical death, but resurrection from condemnation by way of our sin in him. As Jesus took our sin into himself, he was condemned.
For what the law could not do in that it was weak through the flesh, God did by sending His own Son in the likeness of sinful flesh, on account of sin. He condemned sin in the flesh. Romans 8:3 (NKJV)
Condemned in the flesh? In who's flesh? Not yours; not mine. Sin was condemned in the flesh of Christ Jesus. That the human spirit (soul) of Jesus experienced condemnation is not popular theology. I have been criticized harshly at times for such a suggestion. Did Jesus not at the cross say out loud, "It is finished… Into thy hands I commit my Spirit"? What did he mean? He told his disciples that his death would be like that of Jonah in the belly of the fish for three days and nights. Jonah was not dead. He experienced everything that was to be experienced being digested by a large fish. I gave you Jonah's own depiction of his experience above from Jonah chapter 2. It was hell for Jonah. It was dark, cramped, and cold. It stank like death. He could barely breathe. Jonah depended entirely on the presence—the companionship—of God to survive with his life.
The difference for Jesus is that his fellowship with God was broken as he suffered the consequence for your sin and mine. While Jonah became angry that his experience led to God being merciful to repentant sinners (Jonah 4), Jesus experienced death into broken fellowship so that repentant sinners would be reconciled into new life in right relationship with God. I contend that when Jesus said, "It is finished… Into thy hands I commit my Spirit", that the next three days were indeed out of his hands. He was finished following through on the mission to sustain obedience in the flesh. I contend that outside of fellowship with the Father he was lost—having not known grace until He became grace—until the Father would raise him up from the dead and Jesus would be exalted, returning to His rightful place on the throne as King of kings and Lord of lords; the throne He vacated when He humbled Himself into the "likeness of sinful flesh" (Paul's words not mine).
The prophet Isaiah wrote that Jesus was "assigned a grave with the wicked… (and) was numbered with the transgressors… " This bears importance to me. It seems to speak of a distinction between the destination of believers and that of those who will perish into eternal dying. My interpretation from this Scripture and those others cited in this article, is that Jesus experienced the fate of unrepentant sinners; eternal condemnation until being resurrected by the Father and exalted into His rightful position as King of kings and Lord of lords; fully God on the throne at the right hand of the Father.
Like you, I cannot fathom eternal damnation and what it altogether means for unrepentant sinners. Eternal damnation is the wrath of God poured out against the brazen will and activity of evil. That was my debt, and that was yours. It was—not is—because Jesus paid the debt of eternal damnation for those three days and nights.
But you must not forget this one thing, dear friends: A day is like a thousand years to the Lord, and a thousand years is like a day. 2 Peter 3:8 (NLT)
Peter writes that this is important and I must not forget it. Jesus suffered condemnation for three days and nights, according to my temporal perspective of mortality. But what if eternal damnation—eternal dying from the mortal position of Jesus was more like three thousand years? Paul wanted to know Jesus in the fellowship of his suffering. Jesus suffered on a level that no repentant sinner will ever suffer. Peter was crucified upside down. I believe that Jesus suffered immeasurably more than that—wrath of God punishment. That is why, when Peter told Jesus that he would die in his place, Jesus stressed emphatically to Peter that he didn't have really any idea what he was asking for.
I am suggesting it is possible that what was three days on this side—the temporal side—of eternity may have been an eternity on that side—the eternal side—of eternity. Why would it be thought egregious to think it possible that Jesus would come to sympathize through his personal experience the worst of human suffering, that being the sense of eternal condemnation, whatever that actually means. I do not take it lightly to write of this as I have done so shedding tears for the unimaginable impact of my sin against my Savior and Lord.
Redemption for Slaves
________________________________________________________________________________________________________________
Consider the following from Word of Truth Ministries:
Even though all of these blessings are given freely to us, the blessings had a price tag; and the Lord Jesus Christ paid the price.
The word "Redemption" was a common word used in Bible days. It was often used in the purchase of a slave. There were three (3) different words used which spoke of three (3) types of redemption.
"Agorazo" – which means to buy in a market place. Kind of like a trade center. In Bible days, a person could go to a slave market and purchase a slave.
"Exagorazo" – which means to buy out of the market place. For one reason or another a slave could be purchased out of the marketplace, never to be put up for sale again.
"Lutroo" – which means to set free by paying the price. The price of the slave's freedom is called the ransom price. According to this type of purchase, the ransom price of the slave is paid in his behalf allowing him to be set free, liberated, delivered from bondage.
The Greek word for "redemption" in Romans 3:24 is "apolutroseous" which is a stronger form of "lutroo". What Romans 3:24 tells us is that the ransom price held against us has been paid and we have been set free from bondage.
In bible days sometimes a person became a slave because they couldn't pay their debts. In Leviticus 25:25-27, God laid out the conditions of the law of redemption:
The Redeemer must be a next-to-kin.
The Redeemer must be able to pay the pricefully.
The Redeemer must be willing to pay the price.
If a relative loved the slave enough and was able to pay off their debt and willing to; they could go to the slave market, pay the price for that slave, and set him free. This is "REDEMPTION"—freedom by payment of a price. This is what the lord Jesus Christ did for us when he died upon the cross.
We were enslaved under the debt of our sin. Romans 6:23 says that THE PAYMENT OF SIN IS DEATH. The Lord Jesus Christ loved us enough to come (by virgin birth) to the earth (the slave market). As a kin to mankind and being the sinless Son of God, He was able to pay the price for all of mankind's sins; and He willingly died upon the cross, shedding His Blood for the payment of our debt of sin.
God's righteousness is imputed to us who believe, and we are declared righteous freely by His grace, ONLY because the lord Jesus paid the price! We have been set free from sin.
________________________________________________________________________________________________________________
There is no greater love than to lay down one's life for one's friends. You are my friends if you do what I command. I no longer call you slaves, because a master doesn't confide in his slaves. Now you are my friends, since I have told you everything the Father told me. You didn't choose me. I chose you. John 15:13-16 (NLT)
Since we have been purchased as a ransom for sin, we are no longer slaves. We have been redeemed, reconciled fully into relationship with God through relationship with His Son. Redemption from slavery into friendship with Jesus, the Bible says. Purchased as a ransom for sin… What was the price? What really did it cost Jesus? What was the acceptable sacrifice necessary to settle the debt?
The cup of God's wrath against evil IS eternal punishment. It IS an eternal existence without breath. It IS the debt of slavery to sin (Romans 6:23). If that is the debt for sin… my sin… and Jesus paid the debt, then he would have experience the full weight of the ransom for my redemption; eternal damnation for my sin. Then… because God is merciful… the ransom was met, and Jesus was resurrected into new life and restored; then lifted up into full sonship (like the prodigal son) and thus (it bears repeating) exalted into his rightful place; fully God—King of kings and Lord of lords.
The Apostle Paul said of wanting to know Jesus,
I want to know Christ and the power of His resurrection and the fellowship of His sufferings, becoming like Him in His death, and so, somehow to attain to the resurrection from the dead. Philippians 3:10-11 (NIV)
We need to realize that it is in his human experience that Jesus came to sympathize with our weakness, our vulnerability, our inner conflict, and our discomfort. The realization of the power Christ's resurrection comes from understanding where he came from because of what he suffered. Jesus submitted himself to unimaginable suffering, falling from the heights of divinity to the depths of condemnation. Can we even begin to imagine condemnation? I imagine that Jesus experienced the horror of the worst of human suffering. I also imagine that Jesus experienced the horror of the worst of human need and want: greed, lust, rage, bitterness, fear, pride, jealousy, covetousness, and gluttony. I imagine that while he experienced the pain of victims, he also experienced and the sickness and horror of villainous depravity. But as condemned, he took it all—the full impact of our sin—so that we could be free. Our sin was condemned in the human suffering of the soul of Jesus Christ. Let us fellowship together in appreciation of the sufferings of Christ as we attain to the resurrection from the dead.
God ultimately removed from the human soul of Jesus our sin as far as the east is from the west. God resurrected his Son from the dead of sin into new life, and would exalt him, having defeated sin once and for all. God the Father exalted Jesus into his rightful position as God to be our higher Power. God does the same for us who turn away from addictive sin and are committed to him by faith.
We, like Jonah, have chosen to go our own way by choosing a course that is sinful. Our sinful course, like Jonah's disobedience, carries the consequence of disruption, chaos, destruction and ultimately our death. Choosing a course of selfish sin not only drags us down, it takes others in our life down with us, no matter how hard they try to bail us out.
Jesus Christ, a fisher of all mankind fished us out. We were going down. But then he took our sin overboard into the depths of hell on our behalf. For three days and nights, Jesus, all alone, having broken fellowship with the Father over your sin and mine became lost in the pit. After three days in the belly of condemnation, hell got a stomach ache, because once Jesus the Son was restored by his Father, he no longer belonged there. Scripture tells us that the grave could not hold Jesus as he was exalted from the depths of condemnation to the heights of his throne as God. Just like a Jonah was rejected by the giant fish and thrown up and out of the whale, so was the restored Savior resurrected from the depths of hell. The human soul of Christ left hell empty-handed, having disposed of our sin there.
Because of what Jesus has done for us the key to passing from condemnation in our addictive sin into new life is only through Jesus. As the Scripture says, only Jesus Christ has the keys out of condemnation. We are condemned by our sin and must believe that Jesus is our Savior who can unlock and open the way to free us from condemnation.
And you He (Jesus Christ) made alive, who were dead in trespasses and sins, in which you once walked according to the course of this world. Ephesians 2:1-2a (NKJV)
For the law of the Spirit of Life in Christ has freed us from the law of sin and death. For what the law could not do in that is was weak in the flesh, God did by sending His own Son in the likeness of sinful flesh, on account of sin; He condemned sin in the flesh, that the righteous requirement of the law might be fulfilled in us who do not live according to the flesh but according to the Spirit. Romans 8:2-4 (NKJV)
These verses clarify what I believe Jesus is telling us in Revelation 1:18. The only path to freedom from condemnation is through a relationship with God committed to Jesus Christ. The Apostle Paul wrote in these Scriptures that because of the law of sin, we would all die since we do not measure up, and our sinful flesh condemns all of us, since we have all sinned. God, in realizing that we would all perish in our flesh according to the law of sin, and desiring that none perish, made a way of condemnation for sin so that we could live in fellowship with him.
Remember, there had to be a sacrifice for our sin. It was all necessary.
According to Scripture, it was mandatory that the most innocent and least blameless blood sacrifice be offered once, blamed for all into guilt and shame of the worst kind, so that you and I could be reconciled into agreement with God. Jesus would become the sacrificial lamb for our sin. Jesus voluntarily submitted himself to take on our flesh, coming down from heaven, giving up all he was and had as God, and laying on that altar, shedding his blood, as the lamb sacrificed for your sin and mine.
(Please watch this amazing video to "Revelation Song". It's worth the six minutes.)
Jesus is Risen, Jesus is King!
Remember that the disciples, like most of his followers, did not believe that Jesus would rise from the dead. It is my opinion that they may have very well figured Jesus not to be who he said he was, and even felt betrayed by their friend. They lost in the death of their dear friend their hope for a better life. They did not have spiritual discernment or spiritual faith to believe that Jesus was dying intentionally as heaven's requirement to forgive their sins in order to restore them under grace back into fellowship with God. Their faith had diminished. All they could comprehend in their distress and sorrow was that their dreams of being an independent people had been dashed—their hopes and dreams shattered.
Then something amazing would unfold. But it wouldn't come easy to them.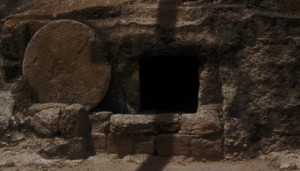 Now when He rose early on the first day of the week, Jesus appeared first to Mary Magdalene, out of whom He had cast out seven demons. She went and told those who had been with Him, as they mourned and wept. And when they heard that Jesus was alive and had been seen by her, they did not believe. Mark 16:9-11 (NKJV)
The eleven disciples of Jesus did not believe Mary Magdalene. Why not? Jesus told them he would arise from the grave on the third day, and it was the third day.  Why would Jesus appear to Mary first? Perhaps because Mary still had hope as she went to treat his dead body in the tomb. The hearts of the eleven remaining disciples were hardened in their grief and unbelief. "They mourned and wept," the Bible says. I agree that they mourned the loss of a friend they dearly loved. They also mourned their fate without Jesus leading them to their promised land where they would live freely, no longer held captive by their oppressors.
Later Jesus appeared to the eleven as they sat at the table; and He rebuked their unbelief and hardness of heart, because they did not believe those who had seen Him after He had risen. Mark 16:14 (NKJV)
So when did the disciples believe that Jesus was the Christ risen from the dead to be their King everlasting?
Then, the same day at evening, being the first day of the week, when the doors were shut where the disciples were assembled, for fear of the Jews, Jesus came and stood in their midst, and said to them, "Peace be with you."  When He had said this, He showed them His hands and His side. Then the disciples were glad when they saw the Lord. John 19:19-20 (NKJV)
One of the eleven, Thomas, takes a lot heat from some today for doubting the authenticity of the risen Christ until he put his fingers into the nail holes in Jesus' hands. However, it does not appear that any of the disciples believed that it was him who had died and was now alive standing in front of them until they saw the physical proof of the resurrection of Christ with their own eyes.
After Thomas puts his fingers into the hand of Christ, and reaches and puts his hand in to his side, he believes, drops to his knees and proclaims,
"My Lord and my God!" John 20:28 (NKJV)
Jesus said to him, "Thomas, because you have seen Me, you have believed. Blessed are those who have not seen and yet have believed." John 20:29 (NKJV)
Jesus asks you today,
"What do you believe about me? What proof do you need? What do you need to see with your eyes?"
Ask Jesus to reveal to you the truth of His Word to you. Let Him know that you want to more fully believe but that you need help with unbelief, when you feel you doubt and lack faith.
"I do believe, but help me overcome my unbelief!" Mark 9:24 (NLT)
If you are looking for Jesus on the cross, you'll not find Him there. You'll not find Him in the grave, either. The crown of your shame, like His crown of thorns, has been lifted from your head. Your sin that He took to the grave has been removed from your past, present, and future. The stone that has kept you in bondage has been rolled away. You have been raised up through relationship with Jesus. He is right there with you; at the door of your soul. It is time to realize that your wounds have been healed, leave the stench of the grave clothes of your past behind, and step out into the sweet aroma that is the freedom of new life. He has extended grace to you. Get up and walk into your new life experience. Soak yourself in it.